This is an archived article and the information in the article may be outdated. Please look at the time stamp on the story to see when it was last updated.
SAN DIEGO, Calif. (June 12, 2015) – A man wanted in connection with a bizarre murder plot against a Hamilton County attorney has been captured in California.
According to the Hamilton County Sheriff's Office, U.S. Marshals apprehended Richard Steven Perillo Thursday in San Diego, Calif. He's in custody at the San Diego County Sheriff's Office Vista Detention Facility awaiting extradition to Indiana.
Perillo will face a number of charges upon his return to Indiana:
Conspiracy to Commit Murder, a Level 2 Felony
Theft, a Class A Misdemeanor
Carrying a Handgun Without a License, a Class A Misdemeanor
Possession of Paraphernalia, a Class A Misdemeanor
Criminal Trespass, a Class A Misdemeanor
Unauthorized Entry of a Motor Vehicle, a Class B Misdemeanor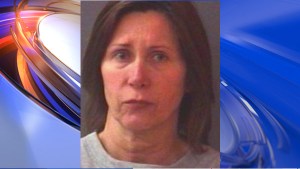 Hamilton County investigators said the whereabouts of Perillo's mother, 51-year-old Renee Perillo, are unknown.
The two are accused of concocting a plot to kill an attorney. The attorney's husband found them hiding in the trunk of the couple's car on May 22. The pair said they were homeless and sleeping. After being charged with misdemeanors, they posted bond and were released. The attorney was pursuing unpaid settlement money from a man Renee Perillo is dating, court documents said.
Soon after the pair's release, detectives found a stolen car with both Perillos' identification inside. They also found a long list of disturbing items. According to court documents, they included:
Tranquilizer gun with four darts
Box of ammunition
Two machetes
Long-handled shovel with fresh dirt on the blade
Blond colored long-hair wig
Roll of duct tape
Alcohol prep pads and antibacterial wipes
Glock .40 caliber magazine fully loaded
Commando saw
Hammer
Multiple pairs of gloves
Hypodermic needles
Brown walking cane, two men's hats, shirt with a white collar such as would be worn by a priest or clergyman
Silicone mask designed to cover the entire head, depicting an elderly man's face/head
An inmate at the Hamilton County Jail said the younger Perillo bragged about the plan and said they'd planned to do a "hit" on the lawyer. They'd hidden in the car for hours, investigators said.