This is an archived article and the information in the article may be outdated. Please look at the time stamp on the story to see when it was last updated.
What a weekend! We set a record for the warmest low temperature of 57 degrees on Saturday morning. We set a high temperature record later in the day and we're not done setting records this weekend. Rain will move in Sunday night and temperatures will be much colder next week. By the end of the week we'll have highs near freezing and lows in the 20s.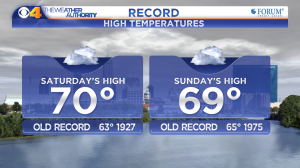 We set a record high of 70 degrees in Indianapolis on Saturday. We should set another high temperature record on Sunday.
Rain out west will approach the state on Sunday and most of Sunday will be dry.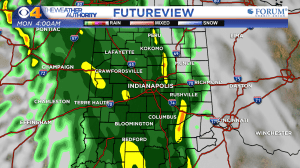 Heavy rain is likely early Monday morning.
Up to a half-inch of rain is likely Monday morning.
Rain tapers off during the day Monday.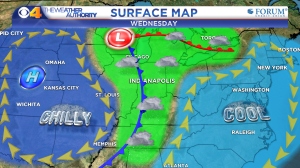 More rain will arrive on Wednesday as temperatures fall.
Rain continues  with cooler temperatures on Thursday.