This is an archived article and the information in the article may be outdated. Please look at the time stamp on the story to see when it was last updated.
INDIANAPOLIS, Ind. — A truck scraped the bottom of an overpass on the northeast side Thursday morning, slowing traffic in the area.
This happened on I-69 northbound at an overpass for I-465. State police said I-69 northbound/I-465 southbound traffic was affected.
According to Indiana State Police and INDOT, a flatbed truck carrying an excavator hit the bridge overpass. Inspectors saw damage to the bridge beam but said it was not a safety concern. Repairs will be made in the near future, INDOT said.
State police said the excavator was damaged so badly that it needed to be cut into pieces so it could be moved. The scene was cleared by around 11:20 a.m.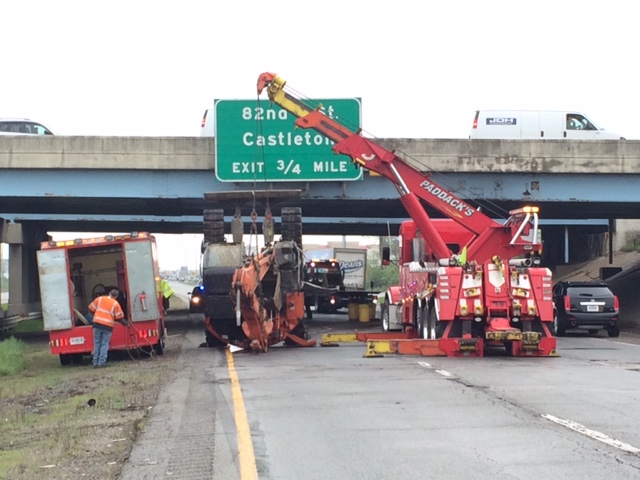 https://twitter.com/ISPIndianapolis/status/725652685110702081/photo/1
I-69 NB / I-465 SB traffic affected. @INDOT on the way to inspect the bridge & @ISPCVED inspecting the semi. pic.twitter.com/Ug8SnxQWiS

— Sgt. John Perrine (@ISPIndianapolis) April 28, 2016
#Update – The excavator was damaged so badly it had to be cut apart to move safely, 60-90 min until cleanup complete pic.twitter.com/oTljg7rUlH

— Sgt. John Perrine (@ISPIndianapolis) April 28, 2016