This is an archived article and the information in the article may be outdated. Please look at the time stamp on the story to see when it was last updated.
HOMECROFT, Ind.– A Southport police officer died Thursday after being shot while responding to a crash.
The incident occurred just after 2:30 p.m. Thursday near Maynard Drive and Madison Avenue in Homecroft, a Perry Township town located approximately 8 miles south of Indianapolis.
Police say the deceased officer, identified as Southport Lieutenant Aaron Allan, and a Homecroft officer responded to the scene after reports of an inverted vehicle. That's when police say "shots were fired by one of the vehicle's occupants, striking the Southport lieutenant."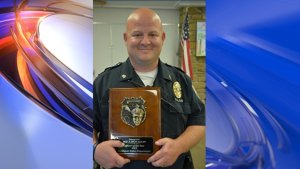 IMPD said the 38-year-old lieutenant was shot multiple times. EMS arrived and transported him to the Eskenazi Hospital, where he succumbed to his injuries. He is survived by his wife and children.
During a press conference, Southport Police Chief Thomas Vaughn said Lt. Allan was a 6-year veteran with the department and he had nearly 20 years of law enforcement experience.
"Lt. Allan was a hard worker and today was no different. He responded to a crash with urgency to preserve life and tragically his was lost," said Chief Vaugh. "We appreciate the community support as we continue to work through the loss of our brother."
Police say the Homecroft officer and an off-duty Johnson County reserve deputy returned fire during the incident, striking one of the two occupants of the overturned car. The occupants were also transported to Eskenazi. One reportedly sustained injuries from an officer's gunshot, while the other suffered injuries in the crash. Those injuries are believed to be non-life threatening, police say.
According to a police report, Jason Brown, 28, faces a preliminary charge of murder. The other occupant in the vehicle has not yet been identified.
"This will be handled as if it was one of our officers," said IMPD Chief Bryan Roach. "We actually feel it is one of our officers and so everything that's afforded to an IMPD officer that would be tragically killed in the line of duty will occur."
A veteran on the scene said the incident is "disgusting" and makes him question his family's safety.
"It's just disgusting you know. Being a vet, I was in the service, we're kind of all in the brotherhood. We're not going to be able to walk our kids down the street because of some foolishness like this," said David Andrzeejewski. "I mean, he pulled over a kid, he probably woke up in the morning told his kids goodbye gave them a kiss, pulls a car over. Next thing you know he's in the hospital fighting for his life. It's horrible. What's it coming to? When's it gonna end?"
Resident Bryan McGary said things like this are unusual for the area.
"It's just hard to believe that this would happen here. I mean I've lived here since 1976 and we really haven't had much… We do have a lot of policemen in our area that live here so it's just one of those things," said McGary. "I've lived here since '76– raised two boys here, they went to Homecroft schools down here, down in Southport, so yeah it's a great place to live. It's just sad that this kind of stuff happens."
Indianapolis Mayor Joe Hogsett released the following statement regarding Lt. Allan's death:
"Today, Lieutenant Aaron Allan was doing what officers do each day: responding to the scene of an accident ready to help someone in their time of need. His death is a shocking and tragic reminder of the difficult, often dangerous work of police officers across Marion County. Together, our community grieves for the Allan family and for all the men and women who risk their lives on a daily basis to protect our city and its citizens."
Indiana Sen. Joe Donnelly expressed his condolences in this statement:
"My deepest condolences and prayers go to the family of Southport Police Lieutenant Aaron Allan, and to the entire Southport Police Department, as they confront this tragedy. Every day, law enforcement officers across Indiana and our country go to work to protect our families and communities. May we honor Lt. Allan's memory and service to his community and our state."
On scene in Homecroft where a Southport police officer has been shot. At least 2 suspects in custody. Waiting on more details pic.twitter.com/nPQc1NZCsc

— Lindsey Eaton (@LindseyEatoNews) July 27, 2017