This is an archived article and the information in the article may be outdated. Please look at the time stamp on the story to see when it was last updated.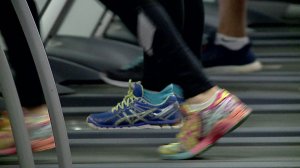 INDIANAPOLIS, Ind.– For many, every new year represents a new start. However, kicking off the New Year with lofty goals and unrealistic expectations can lead to failure well before February.
The New Year also comes during one of the coldest and darkest times of the year which can make it challenging to stick with resolutions to eat healthier and work out more often.
To help maintain focus and momentum, health and wellness experts at St. Vincent offer the following advice for planning and reframing New Year's resolutions to improve chances of success.
Write down your goals and visualize them so they stay top of mind
It sounds so simple, but writing out your goals and looking at them frequently can help keep you focused on what you want to accomplish.
Some people make "vision boards" displaying images to help visualize their goals.
Post your goals somewhere you will see on a routine basis – on your mirror, refrigerator, dashboard, desk, etc.
Set SMART goals with small actions you can stick to
Specific – Instead of being too vague, make your goal a particular action item. (Example: "I want to increase the number of days a week that I exercise.")
Measureable – After you decide on an actionable goal, give it a number you can measure and a timeframe. ("I want to go to the gym three days a week.")
Attainable – Whatever goal you set for yourself, make it something realistic that you know you can accomplish. If exercising three days during the week isn't possible, adjust that goal and set it to something more manageable. Plus, the smaller wins will help to encourage you to continue and to build upon them.
Relevant – Align your goals with things you really want to accomplish. If a goal about fitness or nutrition isn't that important to you, then focus your New Year's resolution on something you feel more passionate about.
Time-based – Set time limits for your goals. ("I want to go to the gym three days during the week for the next month.") That way at the end of the month you can evaluate if you met your goal or not. If not, modify your actions and try again the next month.
"Set a goal that you feel passionate about," said Anna Busenburg, clinical dietitian at St. Vincent. "Don't set a goal for something that you don't care about. If you hate running, don't set a goal to try to run a half marathon because that's not going to make you successful and you're most likely not going to accomplish that goal."
Write down potential obstacles and challenges so you can plan ways to overcome
In addition to writing down the goals you want to accomplish, it's important to write out the particular challenges you might face in working towards your goals.
If you anticipate the obstacles that might keep you from accomplishing your goals, then you can come up with back-up plans and strategies to overcome them.
Have a support system in place for accountability and encouragement
It can really help to have a support system that can follow up with you to encourage you and keep you on track
Going to the gym with a friend or planning on running a race with a friend can also help keep you focused on your goals.
"Being accountable for whatever goal you are setting is really important," said Busenburg. "Making sure that you are telling your friends or family and if you are going to the gym, go with a friend or go to a workout class so if you aren't there, someone's going to miss you and maybe ask where you've been."
Reflect and reevaluate (every month)
Many people set goals in January and totally forget about them in February. Put a monthly reminder in your phone/calendar to review your goals regularly to see if you are progressing.
Take this time to revamp your goals to set yourself up for success going into the rest of the year.
"If you set a New Year's resolution or New Year's goal for the month of January, come the beginning of February- stop and take a moment to look back at those goals," said Busenburg. "That's why I like to encourage people to write them down, put them on a piece of paper and the next month, take a look at those goals to see if you've accomplished them. If not, that's fine- but why didn't you accomplish them? What were those challenges, what were those obstacles?"
To arrange an appointment with a St. Vincent outpatient dietitian, obtain an outpatient referral script from your Primary Care Physician and call 317-348-8943 to schedule an appointment.