This is an archived article and the information in the article may be outdated. Please look at the time stamp on the story to see when it was last updated.
MUNCIE, Ind. (Feb. 10, 2016) - The second suspect in an armed home invasion Tuesday night in Muncie is still on the run. Police say he's considered armed and dangerous.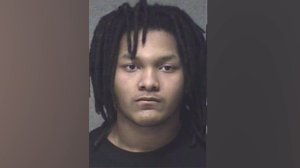 Jaron Johnson, 18, was caught Tuesday night after he somehow passed out inside the home on Dunn Avenue. In a 911 tape, the caller says one suspect is still inside, laying on the floor. The caller said a woman and her two young children were able to escape unharmed. When police arrived, Johnson came out of the home. He surrendered to police and was taken to jail. He was charged with burglary with a deadly weapon.
Police are still investigating the circumstances surrounding the home invasion. Neighbors said they've noticed suspicious activity recently in their normally quiet community.
"You never know what's gonna happen anymore. You gotta protect your home," one neighbor said. He added, "it's real concerning. You never know who's gonna try to break into your house anymore."
Police have not said if they know who the second suspect is, only to say they have not caught him.