This is an archived article and the information in the article may be outdated. Please look at the time stamp on the story to see when it was last updated.
WASHINGTON– Rep. Luke Messer (R-Ind.) introduced legislation on Wednesday that would block the Obama administration's directive to allow transgender students to use the bathroom and locker room at school that corresponds with the gender they identify with.
Schools around the country received the letter last week.  It isn't a law, but if schools don't comply they could face lawsuits and lose federal funding.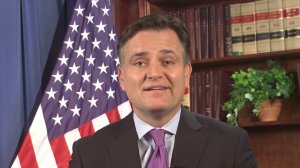 Rep. Messer's legislation, called the PUBLIC School Act (H.R. 5275) aims to halt the loss of federal funding for schools who don't comply.
If voted on, the bill would have to receive enough support from Congress to override an expected veto from President Obama.
"Everyone on both sides of this debate should be treated with respect," said Congressman Messer.  "And, through public discourse, I believe we can come to a solution that protects the privacy and dignity of everyone involved.  But, it's irresponsible for the Obama Administration to begin this social experiment in the bathrooms of our nation's elementary schools.  Decisions of this magnitude should be made at the state and local level by people who will put the interest of our kids ahead of political ideology."
Indiana Gov. Mike Pence spoke similarly about the directive last week. He issued this statement on May 13:
"I have long believed that education is a state and local function. Policies regarding the security and privacy of students in our schools should be in the hands of Hoosier parents and local schools, not bureaucrats in Washington, DC. The federal government has no business getting involved in issues of this nature. I am confident that parents, teachers and administrators will continue to resolve these matters without federal mandates and in a manner that reflects the common sense and compassion of our state."