This is an archived article and the information in the article may be outdated. Please look at the time stamp on the story to see when it was last updated.
SOUTH BEND, Ind (July 15, 2015)–After finding lead Richmond Hill defendant Mark Leonard guilty on all 53 charges, the jury is now free to openly discuss the case, and one juror spoke to CBS4Indy about the trial.
Twelve jurors and four alternates deliberated for about three hours before convicting Leonard. All 16 of them gave up six weeks of  their summer to sit in the basement of the St. Joseph County Courthouse.
"I'm glad I got to be a part of it. In the beginning I was kind of nervous about giving up six weeks, but it ended up being a really good experience," said one of the alternate jurors, who asked not to be identified.
Leonard is accused of blowing up his ex-girlfriend Monserrate Shirley's Richmond Hill home in Nov. 2012. She accepted a plea deal in exchange for her testimony during the trial.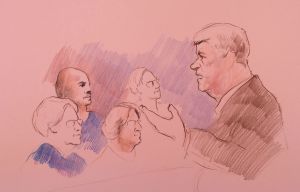 The juror we spoke with says Shirley's testimony was the most compelling, but it did not sway the jury's decision.
"The majority of the decisions that we came up with came from all of the rest of the evidence that the state provided us. We really didn't deal with Shirley after the day she testified," said the alternate juror.
Leonard's defense team spent a great deal of effort and time poking holes in Shirley's character as a credible witness.
"It wasn't cut and clear if what she was saying you could really take to heart. Even if she hadn't testified, I don't think our choices would have been any different," the juror said.
Ultimately, it was the accumulation of evidence that led to Leonard's guilty conviction, according to the juror.
"I think it ended up being just how much evidence there was against what happened that proved to us that this wasn't just something that someone didn't plan."
The jury in St. Joseph Superior Court heard from Robert Smith, a jailhouse informant with a lengthy criminal record, who said Leonard asked his help in finding a hired killer to take out Mark Duckworth, a friend whom the Richmond Hill mastermind confided in.
However, Smith was relaying this information to investigators, who eventually arranged a jailhouse phone call between Leonard and the "hit-man."  In reality, Leonard was talking to a federal ATF agent.The jury heard those jail phone calls from Leonard.
"There were definitely things that contradicted each other," said the juror.
Leonard's team of attorney's contended that Smith was feeding Leonard powerful prescription pills and tricked him into the hit-man plot in exchange for a reduced sentence.
"It's hard to say we completely  found him credible when he said things that contradicted himself, but again that wasn't something that went into our decision," said the anonymous juror.
After closing arguments Monday, the case was handed to the jury. While deliberations started Monday evening, the verdict wasn't reached until Tuesday at 12:30 p.m. It took the jury roughly three hours of actual deliberation time  to reach its verdict.
"We started with the lesser charges and moved our way to the higher charges and we knew that if we had said guilty to one of them,we had to say guilty to the other ones."
While the jurors were able to move quickly through the less serious offenses, they did stall while deliberating the murder charges.
"We were able to go through it pretty quickly until we got to the knowing vs reckless homicide–charges 52 and 53. When we got to that one there was some confusion about what the definitions mean of the word."
The juror tells us it took about 45 minutes to work through those two murder charges.
"I think once everyone understood the definition it was pretty much well, 'does everyone think it was knowingly murder?' Everyone raised their hand and that was it."
After deliberating, the jury was asked to return to their regular seats for one final time. Judge Marnocha instructed the courtroom not to show any emotion while the verdict was read.
"I was nervous when we went back in there for how everyone would react to it, but I wasn't scared. It was weird for us to be in front of him knowing that we had just made all  these decisions about the rest of his life."
The juror who spoke with us said the jury only became aware of Leonard's potential life without parole sentence after Tuesday's court proceedings.
"I saw someone across the other side of the table who will have to be in jail for the rest of his life probably."
Leonard will be formally sentenced on Aug. 14.