This is an archived article and the information in the article may be outdated. Please look at the time stamp on the story to see when it was last updated.
Indianapolis Home Show
Indiana State Fairgrounds
The Indianapolis Home Show kicks off this weekend at the Indiana State Fairgrounds. The show starts Friday and runs through January 28th. It will feature speakers and celebrities like Karen and Mina from "Two Chicks and a Hammer" and "Good Bones" on HGTV. There will also be feature gardens, a tiny home village, beer garden, wine bar, and tons of vendors and experts on hand. Of course, the big attraction is always the Centerpiece Home: a fully-constructed, decorated, and landscaped home by Fischer Homes.
Hours: Mon-Fri 11am-9pm, Saturday 10am-9pm, Sunday 10am-6pm.
Admission: $12-14 ($3 ages 6-12).
Indy Golf Expo
Indiana State Fairgrounds Champions Pavilion
The Indy Golf Expo also kicks off on Friday and runs through Sunday. The show features anything and everything for golf lovers of all expertise levels including apparel, guest speakers, gear, free seminars, giveaways, a putting challenge, long drive challenge and KP challenge, as well as a junior golf area. You can even get your swing analyzed by a certified pro. Plus, all attendees will receive a $10 gift certificate to Top Golf, and free or discounted rounds of golf at some of the most prestigious courses in the area.
Hours: Friday 11am-5pm, Saturday 10am-5pm, Sunday 10am-4pm.
Admission: $13 for adults, $12 for seniors, and kids 12 and under are free.

Naptown Roller Derby
Indiana State Fairgrounds Blue Ribbon Pavilion
Kick things up a notch on Saturday night and cheer for some of the toughest ladies in the city at the Naptown Roller Derby inside the State Fairgrounds Blue Ribbon Pavilion. It's an 80's themed double header called the "Glow-Out Blow-Out," so get decked out and ready to cheer for The Warning Belles and Tornado Sirens as they battle Team United from Iowa! Doors open at 5pm and tickets are available online or at the door.
Admission: $17 for adults; $8 for children aged 7-12; $8 with military ID; $12 for students with ID; and free for children 6 and under.
(FYI: Bouts are family friendly but very loud! If your child is scared easily by loud noise, a roller derby bout may not be a good place to be. You may also want to bring ear protection for young children.)
Disney on Ice: Dare to Dream
Bankers Life Fieldhouse
Grab the kids and head to Bankers Life Fieldhouse this weekend for Disney on Ice. The show is called "Dare to Dream" and celebrates the courage of 5 Disney heroines: Moana, Anna and Elsa, Rapunzel, Belle, and Cinderella. Plus, Mickey and Minnie will also be there serving as hosts for a night that's all about discovering why no dream is too big when we find the strength to shape our own destiny. Shows run each night (sometimes two shows in one day) until Sunday. And feel free to dress the kids up like their favorite Disney character!
Click here for more info, ticket prices, and show times.
Anastasia (presented by the Franklin Community High School Drama Club)
Franklin Performing Arts Center
The highly-acclaimed Broadway musical, Anastasia, has taken New York by storm as it brings to life the popular 1997 animated movie. Now, you can see the story come to life right here in central Indiana as Franklin Community High School's Drama Club presents Marcelle Maurette's adaptation of the famous story.
"When the dark shadow of revolution falls on the house of the Romanovs, the royal family's youngest daughter, Anastasia, barely escapes the siege. Ten years later the Grand Duchess knows herself only by the name Anya due to amnesia caused by hitting her head that night. But Anya holds memories of a past which was full of palaces and parties. In order to discover more about this past, she travels to Paris with two con men who plan on passing her off as Anastasia to collect the reward money offered by the Dowager Empress for the return of her granddaughter. But what they don't realize is that they may have the real Anastasia."
Show times:
Thursday, Jan. 18th at 7 PM
Friday, Jan. 19th at 7 PM
Saturday, Jan 20th at 2 PM and 7 PM
Sunday, Jan 21st at 2 PM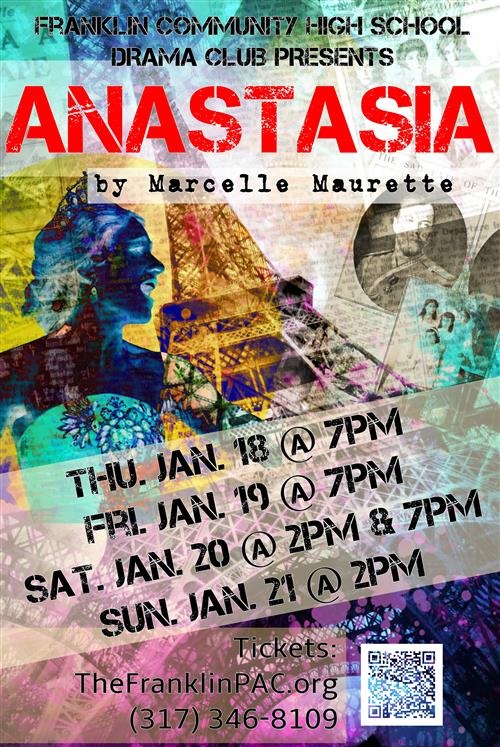 Ice Sculpture Display
Clay Terrace
Bundle Up and check out the Ice Sculpture Event on Saturday from 10am-9pm at Clay Terrace in Carmel. The event kicks off their annual Winter Blast and features several unique ice sculptures throughout Clay Terrace to help highlight the shopper experience. Shoppers are also encouraged to take plenty of pictures with the sculptures and are encouraged to share on social media, so don't forget your selfie stick!
Four Ice Sculpture Locations:
-Between Sur La Table and Victoria Secret
-Between Eddie Bauer and Fidelity Investments
-Between Pier One and Village Clock Shop
-Between Old Navy and Justice