This is an archived article and the information in the article may be outdated. Please look at the time stamp on the story to see when it was last updated.
BOONE COUNTY, Ind. – Nearly two months after Boone County Deputy Jacob Pickett was fatally shot, prosecutors say the man accused of killing him will face the death penalty.
Boone County Prosecutor Todd Meyer made the announcement during a news conference Tuesday.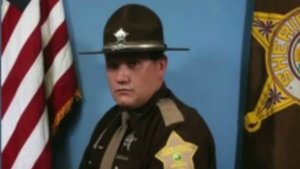 "I have given this decision considerable thought and deliberation and, after speaking with the victim's family, presenting the case to the Indiana Prosecuting Attorneys Council's capital litigation committee and after meeting with members of the Indiana Attorney General's Office, I have concluded that seeking a death sentence in this case is the right decision," said Meyer.
Last month, Meyer indicated he was leaning toward pursuing a death sentence for Anthony Baumgardt, who's charged with murder in the deputy's March 2 shooting. Baumgardt also faces drug- and gun-related charges.
Police spotted Baumgardt in a car along with John Baldwin Sr. and John Baldwin Jr., who was also wanted on a warrant. After a vehicle pursuit, Baumgardt and Baldwin Sr. got out of the car and tried to run away. It was then that Baumgardt shot Pickett, police said, fatally wounding him.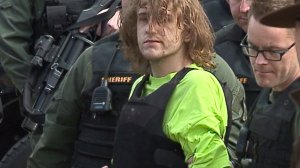 Before a hearing last month, Baumgardt told reporters he had "no remorse" for shooting Pickett. He said he opened fire because he "didn't want to get bit by a dog," referring to Brik, Pickett's K9 partner.
Meyer said an aggravating factor that qualifies the case is the allegation Baumgardt intentionally killed Pickett in the line of duty.
During his initial hearing, Baumgardt asked if he could "seek out the death penalty" on his own if he decided to plead guilty.
Baldwin Jr. is charged with resisting arrest and violating his probation. Baldwin Sr. isn't charged in connection with the case.  Prosecutor Meyers says more charges could be filed against more suspects in the coming weeks.
"The men and women of law enforcement put their lives on the line each and every day to keep the citizens of Boone County safe and out of harm's way. When someone takes the life of a police officer, by intentionally killing him/her, while he/she is acting in the line of duty, then that person should have to face the ultimate penalty, which, in the State of Indiana, is a sentence of death," said Meyer.
As for seeking the death penalty against Baumgardt, prosecutor Meyer says his decision came with the support of the Pickett family, who is still grieving the death.
"As you can well imagine the family remains numb. This was just a horrible tragic event for them," said Meyer.
Baumgardt is due back in court this Friday for a hearing on the death penalty request. His trial scheduled for July of this year will be delayed.