This is an archived article and the information in the article may be outdated. Please look at the time stamp on the story to see when it was last updated.
INDIANAPOLIS, Ind – Indianapolis Metropolitan Police are praising the quick actions of several witnesses who chased down a suspected hit-and-run driver on the east side of Indianapolis Monday morning.
Jessica Parks, 27, was badly injured when witnesses say she was hit by a car while crossing 38th Street to go to work at Fervent Prayer Church.  Church officials say Parks is a caregiver in the church's preschool.  They say Parks sustained serious injuries to her legs and lower body, but will survive after undergoing surgery Monday.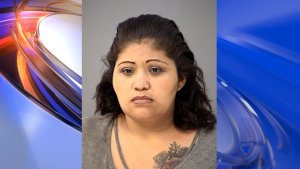 Immediately after the accident, witnesses say the car, driven by 36-year-old Juana Loa, quickly left the scene.
"I heard her take off," said accident witness Shayna Pearson.  "So we jumped in, we took off after her."
Pearson was one of several people who chased after Loa down 38th Street.
Van Williams, a Vietnam veteran who drives one of Fervent Prayer Church's school buses, says his instincts kicked in as soon as he saw his injured co-worker.
"You just have to kind of take charge of every situation that you can," Williams said.  "I was able to call the school and tell them to call 911 and inform them that a teacher had been struck while I was en route to chase the car down."
Williams chased after Loa's car in his school bus.  He eventually veered in front of the fleeing driver at the intersection of 38th Street and German Church Road.  Moments later, the car Pearson was in pulled in behind Loa's car.  They sat there, preventing Loa from leaving.
"The only thing she kept saying before I pulled off to go find the police was 'you need to let me go, you need to let me go, I have to go right now,'" Pearson said.  "No you don't.  You're not going nowhere until the police get here."
"And I told her to sit in the car, turn the car off.  And she was trying to explain, I gotta go, I gotta go.  I gotta leave, I gotta leave," Williams said.  "I said no ma'am, sit in the car.  The police are on the way."
"You left the scene of an accident, you should have stayed there," Williams said.
Responding IMPD Officers arrived and took Loa in for questioning and a blood draw at a local hospital.  Monday afternoon, police said Loa was arrested on charges of Leaving the Scene of an Accident Causing Serious Bodily Injury, and Operating a Vehicle Having Never Received a License.
"Any time you have an individual who wants to go beyond the line of just calling 911 but also intervening, it's great," said IMPD Officer Aaron Hamer.  "It says a lot about our community."
James Jackson, Lead Pastor at Fervent Prayer Church, said Jessica Parks is a well-loved member of the church staff.
"Tremendous young lady, we love her," Jackson said.  "And we're just very very sad that this happened to her today."
Jackson said he was thankful for the witnesses who reacted so quickly to catch the driver suspected of leaving the accident scene.  He's also grateful that two people, an off duty nurse and paramedic, who happened to be near the scene, rushed to render aid to Parks until an ambulance arrived.
"There's a lot of good people in the community," Jackson said.  "These are folks who were on their way to work and they took it upon themselves to get involved."
Jackson says he has been concerned for some time about the safety of East 38th Street near his church.  The same stretch of city street passes by the entrance to the Spanish Oaks Apartments and is heavily traveled.  Jackson says he is in talks with City-County Councilor La Keesha Jackson about reducing the 40 mph speed limit through the area.  Councilor Jackson's office says those discussions and information are in the early stages, but no proposal has been bought to the City-County Council at this time.