This is an archived article and the information in the article may be outdated. Please look at the time stamp on the story to see when it was last updated.
UPDATE (March 21, 2017) – John Foster pleaded guilty to two counts of his indictment. He was sentenced to 180 months of incarceration with a supervised release of 3 years. 
INDIANAPOLIS, Ind. (Oct. 5, 2015) – John William Foster had no intention of going back to the Kentucky county jail from which he escaped, so the 47-year-old man shot himself in the neck when IMPD officers closed in on him and his stolen car in the parking lot of a south side school this morning.
Foster is listed in critical condition and, should he recover, authorities in Oldham County, Kentucky, want him back.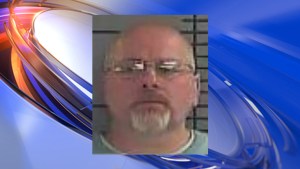 "This individual will be extradited back to Kentucky to face the new charge of escape," said Deputy Mike Simpson. "He is actually a state inmate, but he serves his time under a work program in county jails."
On September 2, Foster was on a work detail in La Grange, a small town south of Louisville, when investigators said he took off in a county truck used for a recycling program.
"Typically, what we have learned being in this business, that when a situation like this happens, where an inmate walks away from a work site, they have a really high percentage where they go back to where they are from because that's an area that they're comfortable," said Simpson. "He was from an area originally up around the Indianapolis area, so it doesn't surprise me that the local police were able to find this individual."
U.S. Marshals and IMPD officers had been on the lookout for Foster since mid-September, assuming he was drawn to Indianapolis by the presence of his girlfriend.
At least twice investigators spotted Foster in traffic only to lose him.
This morning, detectives spied Foster in the vicinity of Southport Road and Meridian Street.
When a marked car took up the pursuit, Foster drove the stolen truck, with the county seal on the side, to the parking lot at Perry Meridian Middle School.
"He gave officers an indication that he would not go back to prison," said Ptl. Christopher Wilburn. "The officer saw the suspect manipulate a firearm, actually saw a firearm in his hand. He sped through the parking lot. There was a reserve IMPD officer here who was employed as a security element here at the school, listened to the traffic, noticed the vehicle. The vehicle stopped, just about six or seven hundred yards away from the entrance to the school, that individual suspect exited the vehicle with a weapon. The IMPD officer reserve officer discharged his firearm."
The reserve officer fired two shots, which did not appear to strike Foster.
Parents arrived at the school, alerted by a system-wide phone call from the office of the superintendent which advised that Perry Meridian Middle School,  Perry Meridian High School and the Perry Meridian Academy were on lockdown status.
"It's scary. He could've just as easily went into the school and shot himself in there, or shot someone else, you never know, especially with him being an escapee," said Tiffany Jones. "With all the school shootings that's going on, it's very scary for a parent and I'm sure its very scary for the students."
Foster was serving a five-year sentence as a convicted felon with a firearm.