This is an archived article and the information in the article may be outdated. Please look at the time stamp on the story to see when it was last updated.
INDIANAPOLIS, Ind. (Jan. 19, 2015) – A 13-year-old boy is dead after he was shot in the 3600 block of Decamp Drive on the east side, near 38th Street and North Post Road.
Indianapolis Metropolitan police officers did CPR on the boy on the sidewalk, but he was pronounced dead at the scene. IMPD identified him Monday afternoon as Ashton Harting, 13.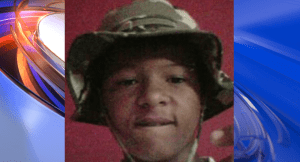 Detectives say it happened around 1:45 a.m. as a "shots fired" call was made to 911, and as officers were headed to the scene, another call came in and the person said young juveniles were knocking on doors in the Decamp Drive neighborhood, saying someone had been shot.
Those witnesses, including Harting's 15-year-old brother, were taken to IMPD headquarters for questioning. Detectives spent the early morning hours talking to neighbors and processing the scene.
Robert Gilham said several teens started pounding on his door shortly after he heard multiple gunshots outside.  But, by the time he got to the door, they had already run down the street.
"I couldn't make it out, what they were saying," Gilham said.  "It was just one word.  Like rat, or something like that.  It sounded like rat."
Neighbors along Decamp Drive were shocked to learn that Harting had become the city's latest homicide victim.
"Where are the parents at," said Monte Powell.  "Where are the people who are supposed to be the overseers for them?  They're the ones dropping the ball because at 13-years old, you need to be in the house at 1 o'clock."
"Why would a 13-year old boy be out at 1:30 in the morning," asked neighbor Sherrell Douglas.  "That goes back to the teachings of the parents and stuff."
Investigators have indicated that the shooting may have been gang related.  But, family members who spoke off camera said Harting was not involved in a gang, even if he was hanging out with the wrong people at the wrong time.
Police records show Ashton Harting has had several run-ins with law enforcement.  He was arrested on Burglary and Theft charges in different cases in August 2014 and November 2013.  Detectives will undoubtedly explore those prior cases looking for possible leads.
There is no suspect description in Monday morning's shooting.
If you know anything, call Crime Stoppers of Central Indiana at (317) 262-TIPS (8477). Callers may also text "INDYCS" plus tip information to 274637 (CRIMES). All information shared through Crime Stoppers of Central Indiana is considered anonymous.