This is an archived article and the information in the article may be outdated. Please look at the time stamp on the story to see when it was last updated.
FRANKLIN, Ind. — More than three years after contractors made a mess on the back of a Franklin man's property, he's finally getting help.
Pete Leclerc contacted CBS4 Problem Solvers about the state of an easement at the back of his large property. It sits along a railroad track, and Leclerc said back in 2013 contractors for Duke Energy went in to work on power lines in the area.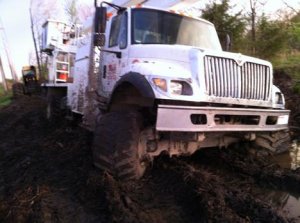 Trucks used by those contractors became stuck in mud, creating large ruts, according to Leclerc. He said that his fence was also damaged, and in the years since the area has become overgrown and unruly.
For years, Leclerc had used the back gate to frequently clean up the easement area. When CBS4 Problem Solvers visited, that back gate was not accessible due to overgrowth.
"Before, you could see through the fence. It was nice and clear, it was nice and clean," Leclerc said.
Leclerc, who is deaf, moved to the area to serve as the pastor at Greenwood's Crossroads Deaf Baptist Church. He and his wife host a bonfire for the deaf community on their property each fall, and the former professional chef also raises chickens and grows herbs and vegetables. He said the overgrowth was contributing to predators on the property and he hoped to clean it up in time for this October's bonfire.
"God has blessed me with this property and this house, and so I've been trying to take care of it as best I could," Leclerc said.
CBS4 Problem Solvers reached out to Duke Energy, and the company jumped on Leclerc's problem right away. He said he almost immediately saw results.
"About two days later … one of their senior inspectors showed up at my house," Leclerc said. "They said it's no problem. Whatever you want, they said, whatever you want."
In a statement, Indiana spokesperson for Duke Energy Angeline Protogere said, "If we cause damage to a customer's property during our work, we take responsibility for it. In this case, we are sorry that did not occur until now. We are glad to be able to resolve this for the Leclercs."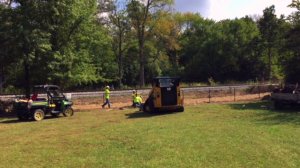 Leclerc said that crews showed up last Friday to start fixing up the back of the yard, and then this week to install a new fence, as well as even out the ruts from the trucks. He said he expected the work to be done soon.
"(Our visitors) won't have to look at the ugly brush out here anymore," Leclerc said.
If you have a problem you'd like CBS4 Problem Solvers to consider, you can contact us at ProblemSolvers@cbs4indy.com or (317) 677-1544.