This is an archived article and the information in the article may be outdated. Please look at the time stamp on the story to see when it was last updated.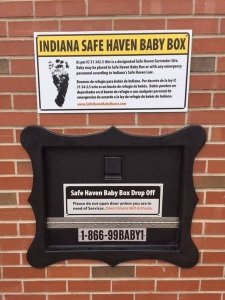 LAPORTE COUNTY, Ind. – A Safe Haven Baby Box is credited with saving a newborn's life.
According to the sheriff's office, their dispatch center received an alarm from the baby box located outside of Coolspring Township Volunteer Fire Department at 10:24 p.m.
Coolspring Fire Chief Mick Pawlik arrived at the station within five minutes, and he found a newborn infant inside the box.
"I just open it up and that baby just looked me right in the eyes," said Pawlik.
Volunteers for the Safe Haven organization say today's rescue is proof that the boxes can save the lives of babies that might otherwise be left out in the cold.
"It was very raw," said Linda Znachko, a Safe Haven volunteer who saw pictures of the baby. "The baby had obviously been just delivered."
Emergency personnel took the baby to Franciscan St. Anthony's hospital in Michigan City. The baby appeared to be healthy and in good condition, according to the LaPorte County Sheriff's Office.
"When this box was installed, we hoped that it would never be used, yet we're thankful that it exists for cases just like the one Tuesday night," said Pawlik. "We are grateful that the mother had this option and made this choice, and we remain concerned for her health."
Having that choice was inspired by an abandoned baby who wasn't left in a box and consequently wasn't found in time.
Nearly three years ago, a hiker found a dead infant wrapped in a sweatshirt at Eagle Creek Park.
Linda Znachko, the Safe Haven volunteer who's also the founder of "He Knows Your Name Ministry", named her Amelia Hope, dressed her in white and gave her a dignified burial.
Baby Amelia was one of many abandoned neworns  Znachko had named and buried since 2009.
But it's Baby Amelia who inspired the passage of Indiana's Safe Haven Law, which allows parents to anonymously surrender babies up to 30 days old at any hospital, police department or fire station.
And it's Amelia's footprint that's the logo for Safe Haven Baby Boxes.
Znachko says Amelia is a constant reminder of why they need Indiana's state officials to more aggressively support the boxes, which have helped thousands of babies across America in the two years they've been installed.
"I want to see that we are helping moms in crisis who are so afraid, that we give them an option for anonymous surrender because I think we could save more babies," said Znachko.
The LaPorte County Safe Haven Baby Box was installed at the fire department on April 28, 2016. At the time, it was just the second such device installed in the United States.