This is an archived article and the information in the article may be outdated. Please look at the time stamp on the story to see when it was last updated.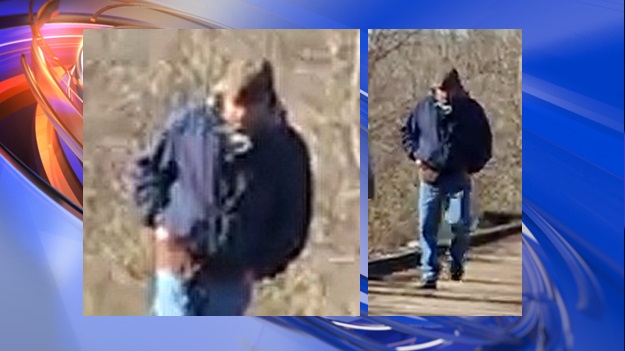 Update: Police released a photo of a man taken on the Delphi Historic Trails on Feb. 13, around the time Abigail Williams and Liberty German were walking.
Investigators want to talk with him about what he may have seen. They would also like to speak with anyone who was parked at High Bridge Trail Head on Feb. 13, between 1 p.m. and 5 p.m.
Anyone who knows about the pictured man or has any information is asked to call a special tip line set up for this case: 844-459-5786. Information provided will be followed up on by officers working the case. Tips can be submitted anonymously.
Original story: 
DELPHI, Ind. – Officials confirmed on Wednesday that the two bodies found in Carroll County are the two missing teens.
Investigators discovered the bodies not far from where Liberty German, 14, and Abigail Williams, 13, were last seen. The girls were reported missing Monday.
Officials said the bodies were transported to Terre Haute where a coroner conducted the autopsies that confirmed their identities. An official homicide investigation is now underway.
Police reported on Tuesday that foul play was suspected in their deaths.
Sgt. Kim Riley said parents should keep a close eye on their children during a press conference Wednesday morning.
The bodies were discovered along the edge of Deer Creek in Delphi which is about a half-mile away from the Monon High Bridge, the last place the two girls were seen Monday afternoon. They were supposed to meet with family members later Monday evening, but when the teens didn't show up, and that's when their family called police.
The bodies were discovered about 50-60 feet from the water. Police would not say if the girls were in the water or not.
Their disappearance led to a large search involving numerous volunteers and several enforcement agencies. Police said they didn't think an Amber Alert would have helped them in this case.
No arrests have been made in the case. Officers are asking anyone who may have taken pictures in the area or was just on the trail to contact authorities immediately. You can call the Carroll County Sheriff's Department at 765-564-2413 or Indiana State Police at 765-567-2125.
"Society has changed greatly, and in some areas, not for the best…" said Leazenby. "We are here for a purpose–keeping people safe.
"There is somebody out there who did this crime. We're going to track them down."
Delphi Community Schools Superintendent Gregory Briles said counselors will be available for students and staff Wednesday. All after school activities have been canceled for the remainder of the week at Delphi Community Middle School.
"It is a small community and the community is going to wrap its arms around these families and is going to take very good care of them," Briles said.
Administrators also plan to step up security until police release more details about the investigation.