This is an archived article and the information in the article may be outdated. Please look at the time stamp on the story to see when it was last updated.
WHITESTOWN, Ind. — New U.S. census data shows that a lot of people are moving into central Indiana, but some communities are also seeing their population shrink.
Indiana University's Business Research Center took a look at the new data, released for 2015, breaking it down to show trends.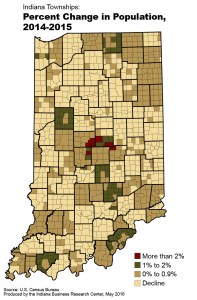 Whitestown was the fastest-growing central Indiana community for the fifth year in a row, nearly doubling its size in that time.
"It's been insane, the development has just been incredible," Whitestown resident Jeff Anderson said. "We were the third house that they put out here, so we saw all of the homes in this neighborhood get built."
Town manager Dax Norton said that while growth is a great thing, too much of it too fast could cause challenges.
"How do we manage this growth, this fast, with all of the needs (and) services these residents are going to expect?" Norton said. "We've got to be very careful about how we strategically plan."
Joining Whitestown on the top of the list for growth were Westfield, Bargersville, McCordsville, and Brownsburg.
Indianapolis also grew, adding more than 4,000 residents in 2015. Other big additions happened in Fishers, Carmel, Noblesville, and Greenwood.
Communities in outlying counties saw the most people leaving, though. Among those with decreased populations were Anderson, Muncie, Kokomo, and Richmond. Logansport saw the biggest drop in central Indiana.
IU senior demographer Matt Kinghorn pointed to donut counties as the biggest areas of growth, but said that in some suburban areas, the growth is not as great as it was before the recession.
"Hamilton county, Hendricks county, (and) Johnson County really aren't growing as quickly as they were during the 2000's or during the 1990's," Kinghorn said.
Overall, Kinghorn said the data continues to follow trends in recent years and that it can help communities figure out where to go next.
"The information is going to mean different things to different communities, just based off of … the reality on the ground in those areas," Kinghorn said.
"We're constantly, constantly paying attention to those numbers," Norton said.
To see what happened in your community, go to the full list compiled by IU at the link here.