This is an archived article and the information in the article may be outdated. Please look at the time stamp on the story to see when it was last updated.
(April 9, 2015) – Concerns about Listeria prompted the recall of about 30,000 cases of hummus.
Sabra Dipping Co. announced the voluntary recall of its Classic Hummus due to possible Listeria monocytogenes contamination. The recall affects five SKUs of Sabra's Classic Hummus sold nationwide. Other products aren't affected, the company said.
There are no reports of illnesses linked to the recall at this time. The potential contamination was found during a routine, random sample collection on March 30 by the Michigan Department of Agriculture and Rural Development.
Here are the affected SKUs: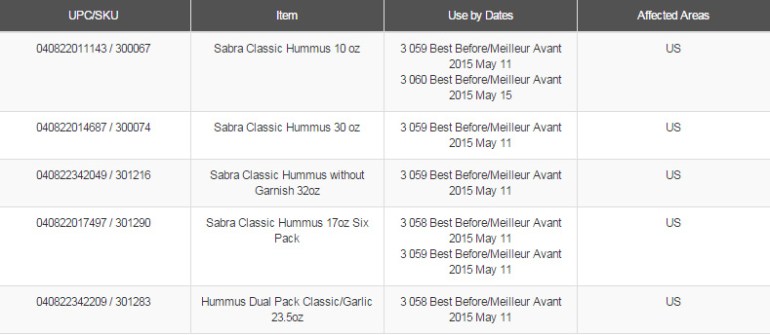 Listeria can can cause serious and sometimes fatal infections in young children, frail or elderly people, and others with weakened immune systems. Healthy individuals may suffer short-term symptoms such as high fever, headache, stiffness, nausea, abdominal pain and diarrhea.
Customers who have bought the products should get rid of them or return them for a full refund. Anyone with questions can call toll free 1-888-957-2272, Monday through Friday 10 a.m. to 5:30 p.m. Eastern.