This is an archived article and the information in the article may be outdated. Please look at the time stamp on the story to see when it was last updated.
AUSTIN, Tex.– Austin police just confirmed what residents have feared for weeks — a suspected serial bomber is on the loose.
For the fourth time this month, a device exploded on Austin residents. What makes Sunday night's blast especially terrifying is that the device was left on the side of a residential road, Austin Police Chief Brian Manley said Monday.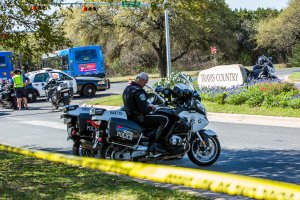 Investigators have found similarities between that device and three previous bombs, which were stuffed inside packages and left on residents' doorsteps, the police chief said.
"We are clearly dealing with what we expect to be a serial bomber at this point," Manley said.
The latest device — which was triggered by a tripwire — shows "a higher level of sophistication, a higher level of skill," he said.
And unlike the victims of the previous blasts, the two men injured in Sunday's explosion are white, Austin police said. Both men are expected to recover.
"The use of a tripwire is far less discriminating than leaving parcel bombs at residences and suggests that the latest victims were not specifically targeted," said Stratfor Threat Lens, a global think tank.
"The device's success, despite significantly different design, further suggests that the bombmaker behind these attacks is an accomplished one, and has likely to have received some training, perhaps as a military or police explosive ordnance disposal technician."
Latest developments
The Travis Country neighborhood of Austin will remain on lockdown until 2 p.m. CT, Manley said, as authorities investigate the pieces of evidence strewn across a wide area.
Manley asked anyone in the neighborhood with security camera footage to call police.
The Austin public school district says it couldn't send buses to the affected neighborhood Monday because of police activity and said absences would be excused.
"As the bombmaker changes up design and geography, all residents of Austin and surrounding areas should avoid suspicious items," Stratfor says.
'Extra level of vigilance' needed
The circumstances of Sunday's blast were different from previous explosions, the police chief said.
"We're not believing that this was similar to previous ones, as in packages left on doorsteps. But instead, this was some type of suspicious package that was left on the side of the road, that detonated and injured these two men," Manley said.
The latest explosion comes less than a week after police said three previous package explosions — in a span of 10 days — were connected. Those explosions killed a man and a teenager, and injured two others.
The victims in those three explosions were African-American or Hispanic. Police have not yet discovered a motive, but have not ruled out the possibility those bombings could be hate crimes.
Police are working under the belief that the explosions are related. Manley said they'll get a better idea with a post-blast analysis and examination of the device components.
In the meantime, Manley told residents not to touch or go near anything that looks suspicious.
"We now need the community to have an extra level of vigilance and pay attention to any suspicious device — whether it be a package or a bag, a backpack — anything that looks out of place," Manley said Monday. "Do not approach items like that.
'It's a family neighborhood'
Stan Malachowski, who lives about half a mile away from the blast Sunday, said he heard a loud explosion.
"It was loud enough to hear inside of our house with our windows and door shut. Again, airplanes go by and cars backfire so we didn't think much of it," he told CNN affiliate KXAN.
"This is a quiet neighborhood. It's a family neighborhood. It's concerning."
All three entrances to the neighborhood have been blocked off.
On edge
Many in Austin have been on edge since the bombings, as some residents of color say they feel under threat.
But unlike the first three bombings, which happened in east Austin, the latest attack happened in a predominately white part of town.
The reward for information leading to the arrest of whoever's responsible for the three explosions increased to a total of $115,000, authorities said earlier Sunday.
"We believe that the recent explosive incidents that have occurred in the city of Austin were meant to send a message," Manley said in a news conference.
"We hope this person or persons is watching and will reach out to us before anyone else is injured or anyone else is killed out of this event," he added.
Officials have urged residents to call police with any tips they may have, even if the information seems to be "inconsequential."
South by Southwest, the huge film, interactive and music festival, wrapped up Sunday, but a bomb threat was made against it Saturday that resulted in the cancellation of a concert featuring The Roots.