This is an archived article and the information in the article may be outdated. Please look at the time stamp on the story to see when it was last updated.
Hurricane Michael is wreaking havoc in the Florida Panhandle, tearing homes apart and flooding streets as the strongest storm to hit the continental US since Hurricane Andrew in 1992.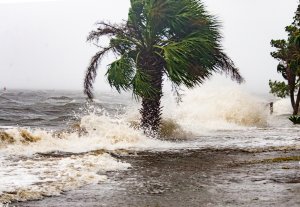 Winds up to 150 mph splintered entire homes in Mexico Beach, near where Michael's center crossed on Wednesday afternoon as a Category 4 storm.
Mexico Beach resident Patricia Mulligan compared the high winds and devastation to what she experienced in Miami in 1992 when Andrew hit. And she estimated that it would take the same amount of time to fix the damage — weeks or possibly months or years.
Live updates on Hurricane Michael
Similar scenes of downed trees and power lines are playing out across the region. Streets are flooding in the Panhandle city of Apalachicola. In Panama City Beach, winds of about 100 mph tore siding from one building and the roof off another, as high winds and storm surges wrought havoc.
In addition to concerns of flash flooding and storm surges up to 14 feet high, not just in the Panhandle but in southern Alabama and Georgia, a tornado watch has been issued by the Storm Prediction Center for much of northern Florida and south and central Georgia until 2 a.m. ET Thursday.
Michael was downgraded to Category 3 about 5 p.m. Wednesday, which means it is still considered a major storm with maximum sustained winds up to 129 mph.
#HurricaneMichael has moved inland but impacts are far from over. Water levels continue to rise along the Apalachee Bay and extreme wind gusts within the eye wall will spread northeast as Michael continues inland. pic.twitter.com/w7WxY3Jc1X

— NWS Tallahassee (@NWSTallahassee) October 10, 2018
Key developments
Hurricane Michael and its outer bands will spread northeast and be capable of quickly spinning up tornadoes.
Line and tree removal crews from utility companies from more than 20 states arrived to assist with recovery.
About 4.2 million people were under hurricane warnings in Florida's Panhandle and Big Bend regions, along with parts of southeastern Alabama and southern Georgia.
A wind gust of 130 mph was reported near Florida's Tyndall Air Force Base, close to Panama City, before the instrument failed.
Up to 14 feet of storm surge was expected in Apalachicola.
Several airports in the Florida Panhandle closed.
Michael still could be a Category 2 storm (wind speeds of 96-110 mph) when it crosses into southern Georgia on Wednesday evening, forecasters said.
At least 103,000 customers are without power along the Florida Panhandle, utility companies said.
'I'm definitely getting a little bit more scared'
Also the strongest hurricane to hit the Panhandle in recorded history, Michael's rapid intensification may have caught some coastal residents by surprise, despite forecasters' warnings of strengthening. It was a tropical storm in the Gulf on Sunday and a Category 1 hurricane midday Monday.
Newlyweds Jessica Ayers and Don Hogg told CNN they and some relatives were staying put in Panama City on Wednesday morning, having decided against leaving because they weren't in an evacuation zone.
"I'm definitely getting a little bit more scared, I have to say," Ayers said.
They have a generator, so they hope to have power if regular service stops. They've identified a bathroom as a place to take cover if winds get extreme.
Janelle Frost and Tracy Dunn told CNN they were staying put in nearby Panama City Beach. They said they wanted to stay to help those who couldn't afford to leave, such as retirees.
"There's so many people that live around where we're at, and we wanted to make sure they're OK," Frost said. "We made the decision to stay to try and help them."
In Tallahassee, Kaitlyn Mae Christensen Sacco said she was taking refuge in her home. She has a generator and a camp stove, and she parked her car at a nearby church lot bare of any trees that might come down.
"We have our bathroom set up with blankets, a battery-powered fan, water, snacks and the tub set up for our dogs with pee pads," she said.
Even before landfall, Michael was sending ocean water onto the Panhandle's shores. Water was creeping into the southern Wakulla County town of Panacea, a picture from the National Weather Service showed.
Rain just one of several threats
A hurricane warning was in place from the Alabama-Florida border to the Suwannee River in Florida.
Meanwhile, tropical storm warnings were in effect for parts of Alabama, Florida, Georgia, South Carolina and North Carolina. Storm surge warnings were in place along the Florida and Alabama coasts.
Up to 12 inches of rain could fall in Florida's Panhandle and Big Bend areas, as well as southeastern Alabama and southern Georgia. Some parts of the Carolinas — recently deluged by Hurricane Florence — and southern Virginia could see up to 6 inches, the hurricane center said.
Michael's rain and destructive winds aren't its only serious threats.
Life-threatening storm surges could slam the Florida Gulf Coast, with the deadliest of possibly 9 to 14 feet expected near the eyewall and to the east — perhaps between Tyndall Air Force Base and the Aucilla River.
Damaging winds are expected in Florida, southeastern Alabama and southern Georgia. Tornadoes could spawn in the Southeast Wednesday into Thursday, forecasters said.
Georgia Gov. Nathan Deal declared an emergency for 108 counties. Alabama Gov. Kay Ivey issued a statewide state of emergency.
In South Carolina, Gov. Henry McMaster said an emergency declared for last month's Hurricane Florence would be extended.
Effect of climate change
Michael's strength may reflect the effect of climate change on storms. The planet has warmed significantly over the past several decades, causing changes in the environment.
Human-caused greenhouse gases in the atmosphere create an energy imbalance, with more than 90% of remaining heat trapped by the gases going into the oceans, according to the National Oceanographic and Atmospheric Association. There's evidence of higher sea surface temperature and atmospheric moisture, experts say.
While we might not get more storms in a warmer climate, most studies show storms will get stronger and produce more rain. Storm surge is worse now than it was 100 years ago, thanks to the rise in sea levels.
According to Climate Central, a scientific research organization, the coming decades are expected to bring hurricanes that intensify more rapidly, should there be no change in the rate of greenhouse gas emissions.