This is an archived article and the information in the article may be outdated. Please look at the time stamp on the story to see when it was last updated.
INDIANAPOLIS, Ind. (April 22, 2015)– Two men accused of killing a man during a 2013 robbery were found guilty Wednesday.
Adrian Anthony and Christopher Bell killed Robbie Gibson outside a home on North Gray Street in November 2013. Bell was 17 at the time, but was tried as an adult.
According to court documents, Gibson and his brother Ron Gibson were working construction on a duplex on North Gray Street when Anthony and Bell approached. One of the males pulled a handgun and demanded everything in the Gibson brothers' pockets. Anthony then stuck a gun in Ron Gibson's back and threatened to shoot him, according to what he told police.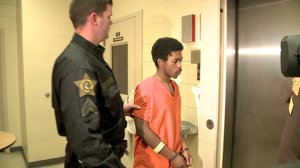 After Ron Gibson gave his cell phone to Anthony, Bell took off running. Gibson says he ran after the suspect and then heard a pop, and his brother Robbie yelling "I've been shot!"
Anthony was previously found guilty of his role in a violent home invasion on the north side of Indianapolis.