This is an archived article and the information in the article may be outdated. Please look at the time stamp on the story to see when it was last updated.
INDIANAPOLIS, Ind. (Feb. 11, 2015)– A 20-year-old man accused of killing his girlfriend's baby was sentenced Wednesday for the crime.
Jared Tapley was sentenced to 45 years in jail for the February 2013 death of his girlfriend's infant daughter. Tapley pleaded guilty to neglect of dependent resulting in death in October 2014.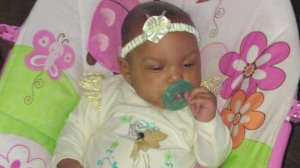 According to the probable cause affidavit, Tapley was babysitting 4-month-old Nicole Williams when he called 911 stating the infant was not breathing. Tapley failed to provide explanation for the significant injuries Nicole suffered while in his care.
Detectives obtained an IHSAA State Championship basketball ring Tapley was seen wearing on the day of the incident. An autopsy performed on the infant noted the injury pattern on the left side of Nicole's face was consistent with Tapley's ring. The infant's cause of death was ruled to be blunt force trauma to the head.