This is an archived article and the information in the article may be outdated. Please look at the time stamp on the story to see when it was last updated.
INDIANAPOLIS, Ind.– Forty-two years later, a 1974 high school class ring is returned to its rightful owner.
It was a Wawasee High School class ring that belongs to a couple who now live in Noblesville.
"I remembered losing it at the drive-in when we were in Arizona and I got back in the car and noticed the chain had broke and the ring was gone," said Carolyn Stump. "We got out of the car right away and started looking for it but couldn't find it."
While in high school, Tim Stump gave the ring to his then girlfriend to wear around her neck. Not long after, the couple lost the ring while vacationing in Arizona.
Tim and Carolyn Stump are now married and were recently contacted by a man in Las Vegas who found the ring.
"It has a few scratches on it and it doesn't fit him anymore but we did check into resizing it so he could wear it again," said Stump. "He was happy to get it back."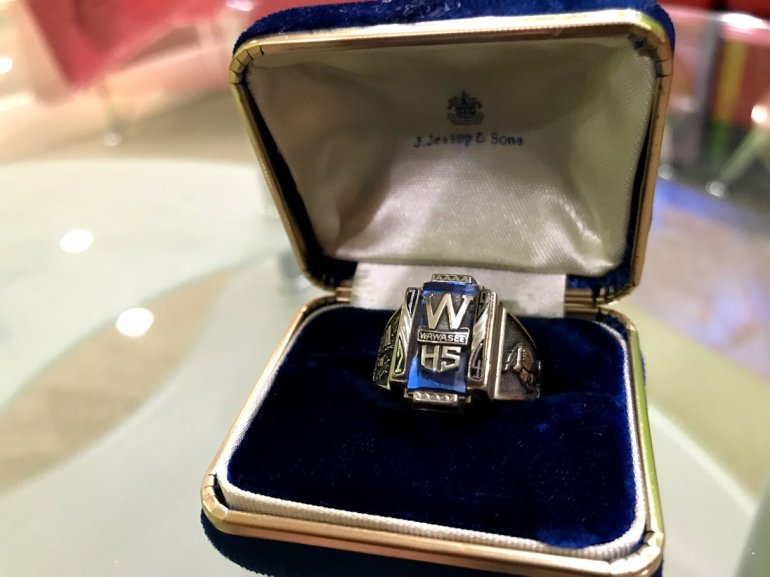 David Bruegger found the ring while visiting his grandfather over the holidays.
His grandfather was moving into a nursing home and Bruegger was cleaning out his jewelry box when he found the ring.
"When I talked to him about it he recalled finding in a drive-in movie theater that they used to have in Tucson," said Bruegger. "He said he had found it on the ground and just picked it up. And of course back then, he didn't have social media or a way to figure out who the ring belonged to."
When Bruegger found the ring, he did everything he could to track down its owner.
He looked up the high school on Facebook and was able to find the couple through the initials engraved on the ring.
Bruegger said he lost his own class ring ten years ago and someone took the time to return it. So, he did the same thing.
"I think even if that situation didn't happen, I would have done the same thing," said Bruegger. "You always see stories online of things getting returned after being lost for so long. By the power of social media, it allows people to connect with people they never thought they would connect with."
"I want to thank everyone involved for getting us this ring back," said Stump. "It was very thoughtful and I knew it took a lot of effort so thank you to everyone involved."