This is an archived article and the information in the article may be outdated. Please look at the time stamp on the story to see when it was last updated.
MORGAN COUNTY, Ind. (June 12, 2015) – Investigators say a man found dead inside a car in Morgan County this week was reported missing to the Indianapolis Metropolitan Police Department.
The body of Anton Dion Robinson, 47, was found inside a car in the 4500 block of Centenary Road around 11:20 a.m. on Wednesday. A local farmer came across the abandoned vehicle. According to a missing persons flyer, Robinson was last seen on June 4 in the area of East 10th Street and Rural Avenue in Indianapolis.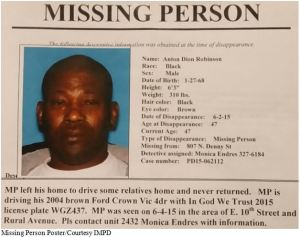 The autopsy showed Robinson sustained "indications of lethal trauma." The official cause and manner of death were still being determined, according to the Morgan County Sheriff's Office. Investigators believe Robinson may have been killed at a different location before someone dumped him there.
Anyone with information should call the Morgan County Sheriff's Office at (765) 342-5544 or email crimetips@morgancounty.in.gov.