This is an archived article and the information in the article may be outdated. Please look at the time stamp on the story to see when it was last updated.
INDIANAPOLIS, Ind. – The man accused of killing a Southport police officer in July made his first court appearance Wednesday after a pair of delayed hearings last week.
Jason Brown, 28, was originally scheduled to have an initial court appearance last Tuesday, but that hearing was pushed back two days. The second hearing was also delayed and subsequently rescheduled for Wednesday, Aug. 9. Brown is now out of the hospital and was in court at 1 p.m. to hear formal charges against him. He will be transferred to the a state department of corrections facility because he is considered a "high risk inmate."
He kept his head down and did not answer any questions from reporters as he was escorted to court by officers.
His pretrial date is set for Oct. 4 and his jury trial is set for Oct. 16. Marion County Prosecutor Terry Curry is discussing the possibility of the State seeking the death penalty with Lt. Allan's family, but no determination has been made yet.
"There's obviously an aggravator here that would justify consideration of life without parole or a death penalty and that is the victim is a police officer acting in the course of his duty," explained Curry.
Curry said they obtained Brown's medical reports while in the hospital. They are also looking into toxicology reports to find out if drugs or alcohol played a factor in the crash and shooting. Curry would not say if a motive had been discovered.
He's charged with murder in the shooting death of Southport Lt. Aaron Allan, who was killed while responding to a crash at South Madison Avenue and Maynard Drive on Thursday, July 27. Allan and a Homecroft police officer found a BMW had overturned after a crash.
Brown, the driver of the car, was wedged inside and "hysterical," according to court documents. Allan tried to calm him down and told him help was on the way.
A witness said Brown "kept trying to reach for something behind his back" and pulled out a pistol. According to court documents, he fired more than a dozen times.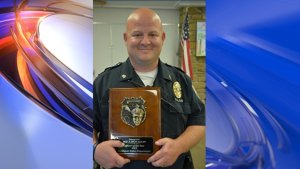 Allan was shot 11 times and later died from his wounds at Eskenazi Hospital. A uniformed officer and an off-duty deputy who'd also responded to the scene returned fire and hit Brown, who spent several days in the hospital after suffering gunshot wounds.
Allan is the first Southport officer killed in the line of duty. He was laid to rest over the weekend after a public memorial service at Bankers Life Fieldhouse in downtown Indianapolis.
Jason Brown did not comment while he was escorted from jail to court. He was surrounded by county's CERT team. pic.twitter.com/JqNFG1l0zd

— Shannon Houser (@Shannon_Houser) August 9, 2017