This is an archived article and the information in the article may be outdated. Please look at the time stamp on the story to see when it was last updated.
(Sept. 23, 2015) — There's a lot to think about when getting ready for a baby.
One of the growing trends for moms right now is to make their own baby food.
 By four to six months, most babies are ready to begin eating solid foods, as a complement to breast-feeding or formula.
Instead of spending money on prepackaged baby food, you can use fresh produce, grains and meat to make your baby a meal.
Moms who make their own baby food say it's easy, efficient and economical.
But is the do-it-yourself route right for your family?
"I would say it is definitely on the rise. There are a lot of people realizing how simple it is.  You get to choose the food so they contain nutrient dense materials rather than buying foods from a box or can," said Naturopathic Doctor Heather Dexter.
Making your own baby food also gets your baby used to eating the same food the rest of the family does. It's a strategy that may pay off during the picky toddler years.
But lots of mommies worry how much time it will take. Dexter says the key is to make easy recipes and plan ahead.
"One of the easiest ways to kick that right out the window is to choose the food you want to make, say it's avocado, baby guacamole. And make that batch. And then use an ice cream scoop and freeze several ice cubes worth," said Dexter.
What do you need to make your own baby food? Surprisingly not too much.
You will need a tool to grind or puree the food, which could be an all-in-one baby food-maker, a food processor or your blender.
Most moms introduce only one food, every seven days. Some of the most popular are avocados, bananas and sweet potatoes.
"Take a sweet potato, cut it in half and then either boil it and then put it in your toaster oven," said Dexter.
Don't forget babies have taste buds too! Add a little flavor to your sweet potatoes, including cinnamon and nutmeg.
My girlfriend Lisa  is a full-time working mom and made food for her daughter Lucy (SUPERMOM).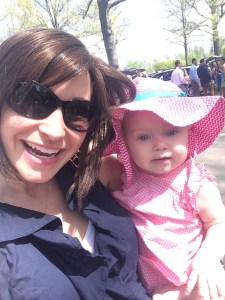 Lisa tells me she dedicated time to making food on Sundays while Lucy was napping and a couple hours once a week after Lucy went to bed.
"I found it really manageable because you can make large batches at once and store in 1-2 oz. storage cubes in a freezer without taking up much space. I would wash, chop, and steam fruits and veggies; puree them in our food processor or mash with a fork; and freeze in 1-2 oz. cubes. I would save the cooking water from steaming to use for the purees. Some foods like avocado and banana don't require any prep at all, simply mash them with a fork and serve or freeze," explained Lisa.
Lisa often added in extras, like quinoa, flax seed, etc., for the day's meals. Some of Lucy's favorite combinations were black beans and avocado, sweet potato and banana, and apples and carrots.
Lisa recommends Sage Spoonfuls Simple Recipes, Healthy Meals, Happy Babies Cookbook.
Lisa says even though Lucy is now a toddler she still makes batches of steamed veggies twice a week, but now they just need to be chopped into bite-sized pieces rather than pureed. Lisa plans to do it all again for their next baby (A BOY!) due early next year. Our little men will have so much fun together!
Share YOUR advice about making your own baby food, recipes and time-saving tips.
I truly appreciate the support and insight – and, hope I can try to make the boys some yummies at least once! :)
XOXO/MWAH,
Nic
#Twinning at 26 weeks
Follow my journey on social media, using the hashtag #PencePregnancy
You can also follow me on my social media accounts: