This is an archived article and the information in the article may be outdated. Please look at the time stamp on the story to see when it was last updated.
NOBLESVILLE, Ind. – If you walk into Nickel Plate Arts this month, you'll quickly be surrounded by the faces of 30 influential women.
On display at the downtown art gallery is Lesley Haflich's "Women of Noblesville" showcase.
In February, the Noblesville artist began painting portraits of 30 women making a difference in the community.
Six months later, she finished all 30 oil portraits, complete with short biographies of each woman.
Alys Caviness-Gober, Disabled artist, writer, and Cultural Arts advocate

Annie Cook, Realtor

Teresa Peil, Sara Ballew, Owners of Discount Copies

Janina Pettiford, LPN, Events Planner

Joanie Weber, Metal Artist

Dr. Beth Niedermeyer, Superintendant Noblesville Schools

Julia Kozicki, Attorney, Mayoral Candidate

Lori Schwartz, Schwartz Bait and Tackle, River Custodian

Shannon Trump, Deputy Chief of Investigations

Leslie Henderzahs, Attorney

Teri Ditslear, Pastor

Michelle Corraco, Motivational Speaker, Assistant Director of Prevail

Noblesville artist, Lesley Haflich
"More and more women are in positions that have typically been held by men in the past," said Haflich. "One of the women is a partner in a law firm, another woman opened her own law firm. We have a woman pastor and a police deputy. These are evolving positions that are being opened to women and being taken by women in Noblesville."
Haflich said she mainly focuses on landscape and abstract painting, but wanted to challenge herself with portraits.
"I would sometimes have two or three going at the same time, just so I could let them sit and percolate a little bit," she said.
Haflich said her inspiration for "Women of Noblesville" came from artist Rose Frantzen's Portrait of Maquoketa.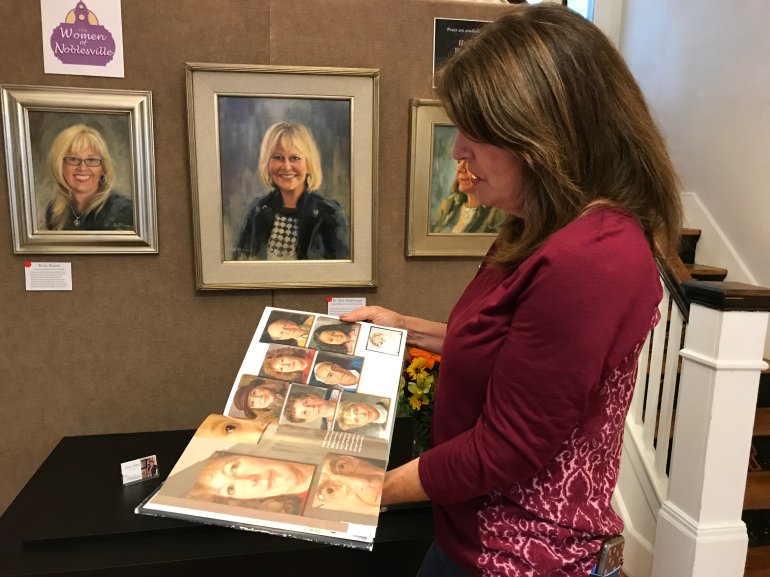 "I wanted to highlight the fact that in Noblesville, we have so many women in positions that really make a difference and contribute to the community," Haflich said. "I thought that was really special."
Last Thursday, Haflich invited all 30 women and their families to the gallery for a special viewing party.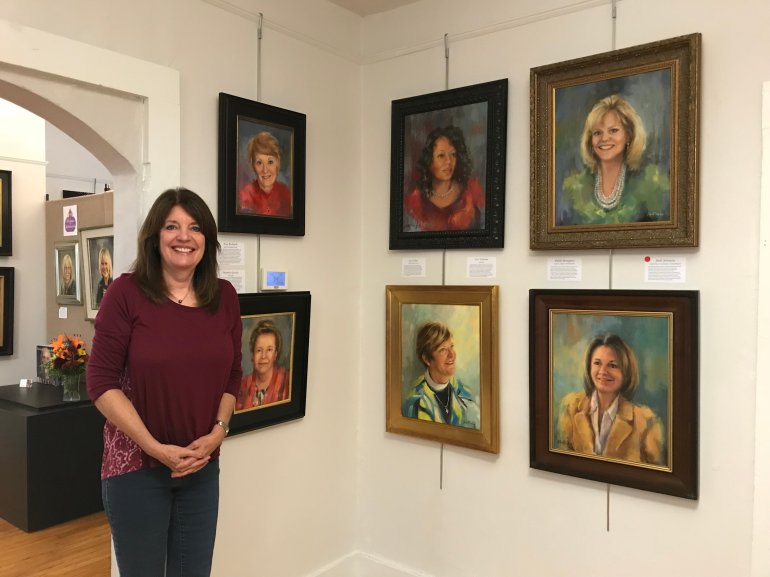 "Women of Noblesville" is on display in the Stephenson House at Nickel Plate Arts in Noblesville through the end of October.
"This is just a sampling of women," said Haflich. "We have more women in Noblesville doing great things in great capacities."
WHEN: Oct. 3 – 31, (Wed.-Fri., 12 – 5 p.m.) (Sat., 10 a.m. – 5 p.m.)
WHERE: Stephenson House Gallery at Nickel Plate Arts: 107 S. 8th St., Noblesville, IN 46060
PRICE: FREE