This is an archived article and the information in the article may be outdated. Please look at the time stamp on the story to see when it was last updated.
LAWRENCE, Ind. — A suspect is in custody following an early morning pursuit in Lawrence in which officers fired shots.
According to the Lawrence Police Department, the incident started with a 911 call about shots fired at Churchill Ranch Apartments near E. 42nd Street and Franklin Rd. A vehicle description was included in the report.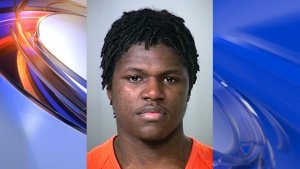 As officers arrived, they spotted the suspect, 24-year-old Korei Crawford, driving away from the scene, and attempted to stop the vehicle. That's when Crawford accelerated and took off. During the vehicle pursuit, a firearm was tossed out of a window close to E. 38th Street and Franklin Rd.
Police said Crawford then drove to the 9900 block of Montery Rd., and exited the vehicle with a rifle. He turned toward officers, who opened fire and wounded the man in the thigh. Officers fired five or six shots, according to Deputy Chief Gary Woodruff.
Police had initially said that the suspect shot at officers but later clarified that officers fired at Crawford.
"Your first thought is defense of yourself and others," Woodruff said. "I know as somebody who's been in that situation, you think of self-defense, self-preservation and defense and preservation of others. That's what's on your mind."
Woodruff said Crawford tossed the rifle aside and was taken into custody after a search.
Woodruff said police aren't seeking additional suspects in the case. Crawford is being treated at Eskenazi Hospital, police said, and faces preliminary charges of criminal recklessness, fleeing law enforcement and serious violent felon in possession of a deadly weapon. The incident remains under investigation.