This is an archived article and the information in the article may be outdated. Please look at the time stamp on the story to see when it was last updated.
JOHNSON COUNTY, Ind. (May 12, 2015)– A 19-year-old jail inmate died in police custody Monday while being transported to Johnson Memorial Hospital.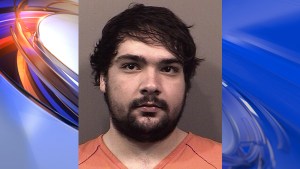 Indiana State Police identified him as Kyler Myers, who was arrested Sunday night on two charges of possession of paraphernalia and a count of disorderly conduct.
On the night of his arrest, Greenwood police had been called to his home multiple times in response to reports of erratic behavior.
Around 4:19 p.m. on May 10, officers from the Greenwood Police Department are dispatched to the residence  on a report of a person running around in the yard naked. Police knocked on the door, and Myers answered the door naked, which is not illegal.
At 2:30 a.m. on May 11, officers received a second call to the residence from Myers. He said someone was attempting to break into his home. While searching the house, officers found no intrusion but did find drug paraphernalia.
At that time Myers was charged and taken to jail. Around 11:40 a.m. Myers was evaluated by the jail nurse who recommended he be taken to Johnson Memorial Hospital for evaluation.
State police said Myers became "increasingly agitated with other inmates and displayed unusual behavior" before the nurse recommended taking him to the hospital.
Myers got into the jail van on his own at 12:09 p.m. At 12:12 p.m., he was found unresponsive in the van. He was rushed to the emergency room, but efforts to save his life were unsuccessful.
Sources close to the investigation say Myers had been through the Johnson County Jail several times before on drug charges. Indiana State Police investigators have had access to internal jail surveillance videos that the source indicates show no mishandling of the inmate.
State police are investigating the death. Myers' autopsy showed no signs of trauma, but was the cause of death was inconclusive. It may be several weeks before the toxicology report comes back.