This is an archived article and the information in the article may be outdated. Please look at the time stamp on the story to see when it was last updated.
UPDATE (Nov. 7, 2019)– Marva Burdine pleaded guilty to robbery resulting in serious bodily injury in the death of Sharan Shepherd, and a murder charge was dropped. She was sentenced to 30 years, with 697 days of jail credit, plus 232 days of other credit.
Previous story:
INDIANAPOLIS, Ind. — An Indianapolis family is grieving after a woman is shot to death on the city's west side.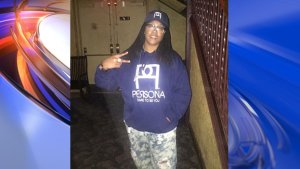 Police were called the scene in the 5700 block of Port Au Prince St. shortly after 7:30 p.m. That's in the Addison Creek on Rockville Apartments near the Rockville Rd. overpass on I-465.
When officers arrived, they found the female victim suffering from at least one gunshot wound. She was transported to Eskenazi Hospital, where she succumbed to her injuries.
She was identified by the coroner as Sharan Shepherd, 36.
Family members say after being shot, Shepherd was able to identify her killer as a longtime friend before she passed away.
Shepherd's family says the 36-year-old dreamed of making it big as a fashion designer before her life was cut short Thursday night.
"We lost a community legend and an entrepreneur. She was a founder of Persona apparel.  She loved everybody.  This is another senseless act that will split the community if we allow it to, but we shouldn't allow that," said the victim's brother Shane Shepherd.
Standing outside the family's home, Sharan's brother and mother shared stories of her life and said they are numb at the loss.
"I don't know what I feel.  I'm so hurt by this.  I'm angry and mad.  I don't know what to feel," said the victim's mother Jewel Edelen.
While the family believes they know who killed Sharan, so far no arrests have been made.
Police wouldn't say exactly what sparked the deadly violence, but whatever the cause, Sharan's loved ones remember her as a caring soul who avoided ever getting in trouble with the law, but couldn't avoid the gun violence that is all too common these days.
"It's just overwhelming and it's horrible," said Edelen. "I don't know the solution to all this.  It's just out of control now."
As the city nears 130 murders for the year, a map of the city highlighting the years homicides shows the west side near 465 and Rockville hasn't seen nearly as much deadly violence as many areas of the east and near east sides.
Still, Sharan's brother knows each of those dots represents a family torn apart by tragedy.
"We're gonna grieve and celebrate the life of Sharan Shepherd because she was more than a red dot on a map," said Shepherd.
Police have not named any suspects.
Anyone with information about the shooting is asked to call Crime Stoppers at 317-262-TIPS. Callers can remain anonymous and may be eligible for a cash reward if the information leads to a felony arrest.