This is an archived article and the information in the article may be outdated. Please look at the time stamp on the story to see when it was last updated.
INDIANAPOLIS, Ind.– Detectives are searching for four people seen exiting a car stolen from the site of a triple murder on the east side last Thursday.
Mark Higgins, Keith Higgins and Jessica Carte were found dead inside a home in the 1800 block of Forsythia Drive. The coroner confirmed the victims were shot to death.
Detectives said the killings were, "not random," and the victims were targeted.
Carte's red 2002 Chevrolet Monte Carlo was stolen and discovered several hours later parked in a secluded area on Catherwood Avenue near East Washington Street.
Either an eyewitness account or video evidence indicted four persons of interest were spotted leaving the vehicle after it was parked.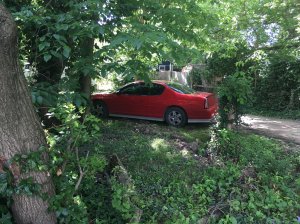 Detectives are trying to determine how the killer or killers arrived at the home on Forsythia and why afterwards would need a getaway vehicle, their familiarity with the victims and the house and whether the number of gunshots and evidence lends itself to the search for a single suspect or multiple shooters.
Mark Higgins was found shot to death on the first floor of his own home while the bodies of his son and son's girlfriend were discovered upstairs.
Relatives found the crime scene after they were alerted that one of the men failed to show up for work at 7 a.m. Thursday morning, likely within a couple hours of the killings.
Neighbors said they didn't hear or see anything out of the ordinary that morning though speculated about a rumored visitor and activity the day before. Crime lab technicians carried a ladder around back of the home along with a metal detector to investigate gunshot and bullet evidence the day of the killing.
Anyone with information is asked to call the IMPD homicide office at 317-327-3475. Tips can be reported anonymously to Crime Stoppers at 317-262-TIPS.