This is an archived article and the information in the article may be outdated. Please look at the time stamp on the story to see when it was last updated.
FAYETTE COUNTY, Ind. – Police in Fayette County have now made a total of five arrests in connection with a homicide last week.
Four men and a 16-year-old juvenile have been taken into custody in connection with the fatal shooting of 37-year-old Michael Shane Hamilton, who was killed around 12:40 a.m. on Sept. 20 at the Elephant Hill Trailer Park.
Over the weekend, the Fayette County Sheriff's Department made three more arrests. Brady Price, 22, was taken into custody on a charge of assisting in an armed robbery/burglary with a deadly weapon. Frank Logan Jr., 20, was apprehended Sudnay in Laurel and arrested on a murder charge after police received a tip about his whereabouts.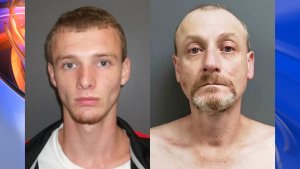 On Friday night, police said a 16-year-old male juvenile was also arrested on a murder charge.
Last week, police announced the arrests of 18-year-old Mark Bennett and 44-year-old Rodney Bennett. Mark Bennett was arrested on a murder charge; Rodney Bennett was arrested on charges of obstruction of justice and aiding in a robbery.