This is an archived article and the information in the article may be outdated. Please look at the time stamp on the story to see when it was last updated.
MARION, Ind. (July 15, 2015) – The father of a Marion man who was arrested for allegedly pouring gas on his family's dog and lighting it on fire told CBS4 his son needs help.
Police were called to the 700 block of West 3rd Street on July 13 at 9:00 a.m. for a disturbance between Brian Cooper and his son.
When they arrived, they said there was a strong odor of burnt hair.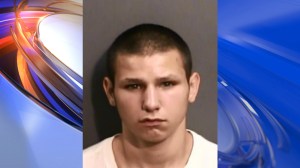 Police spoke with Brennen Cooper. Brennen told police that the family's dog, Bud, was not potty-trained and made a mess all over the house. Brennen said his dad was very angry and said he didn't care if the dog ran away or got hit by a car because he wanted the dog gone.
Brennen told police that since his sisters and brother weren't doing anything to train the dog he decided to take care of the problem himself.
Brennen said, "That's when I went outside and did it." Brennen went on to say that he got a gas can from the shed, poured it on the dog and lit him on fire.
"I've been really torn apart with, did I do the right thing?" Brian Cooper said.
Cooper talked to CBS4 from his home, where Bud is now recovering. His girlfriend was able to put the fire out and Bud has first and second degree burns.
Animal control and police said they had determined Brennen Cooper was the only one involved in abusing the animal and Bud will make a full recovery.
"I would never tell my children go chain the dog up and kill it. … My dogs are like family members to me," Cooper said.
Cooper said his son just came to live with him three weeks ago and has a troubled past. He sent a plea for help, believing his son needs treatment.
"My concern was that if they let him go that he'd be mad enough to come back and possibly burn the house down with us in it. … I think he needs some attention. I think he needs to be looked at by some doctors, because I love him, he's my son," Cooper said.
Brennen Cooper was charged with animal cruelty as a level 6 felony. He's in the Grant County Jail being held on $1,000 bond.