This is an archived article and the information in the article may be outdated. Please look at the time stamp on the story to see when it was last updated.
INDIANAPOLIS, Ind. — The Indianapolis Metropolitan Police Department has announced they are investigating the disappearance of 8-month-old Amiah Robertson as a homicide.
During a press conference Saturday, police say Amiah was last seen with the boyfriend of the baby's mother, Robert Lyons, around 1:15 p.m. March 9. Lyons is said to have spent the day  in the area of Rockville and Mickley.  Police are calling Lyons a suspect in her disappearance.
"If you live in that area I would ask that you try to remember if you saw anything suspicious. If you saw Robert or Amiah, or this truck," IMPD Detective Jean Burkett said.
Lyons then returned to the mother's home at roughly 10 p.m. that night without Amiah.
Police say Lyons was last seen driving a maroon 1996 Isuzu Rodeo.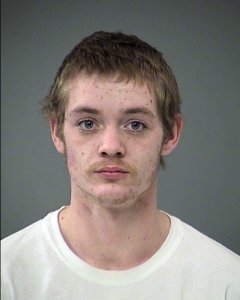 IMPD says they investigated the places Lyons told them baby Amiah should be. Amiah was not found at any of the described locations, and several of the locations Lyons detailed did not exist, according to police.
Officials also confirmed that items found along the bank of the Eagle Creek belonged to Amiah.
Police urge anyone who saw Lyons with Amiah after March 9 to come forward.
Below is what was known previous to IMPD's update on 5:30 p.m. Saturday.
On March 16, IMPD says the baby's family reported Amiah missing, but did not believe she was in danger.
Over the next few days, police say conflicting statements from family members and information learned during the investigation raised concerns for the welfare of the child and prompted detectives to issue a Silver Alert on March 19.
That same day, police acquired a search warrant for a home in the 200 block of South Holmes Ave to interview possible witnessed and collect potential evidence.
On March 20, Indianapolis police say they received a tip regarding items that may be connected to Amiah along a bank of the White River, less than a mile from where the baby was reportedly last seen. Detectives searched the area with help from an Indianapolis Fire Department dive team, but police say their findings were inconclusive.
The Silver Alert expired March 20 at 11:59 p.m. due to limited responses, police say.
IMPD says on March 21, the search for Amiah continued downstream from the original location in an effort to completely exhaust the lead. Officials say investigators and resources then joined community volunteers in an expanded search Friday.
At least 25 IMPD Detectives (missing persons, homicide, and various other units) have done work on the case around the clock, with the assistance from the FBI, Indianapolis-Marion County Forensic Services Agency, Indianapolis Fire Department, and Marion County Prosecutors Office.
Officers have responded to tips and assisted with searches over several districts and worked alongside community volunteers searching for Amiah. IMPD will continue to investigate until the case is resolved.
Anyone with information about Amiah's disappearance is urged to contact the IMPD Homicide Office at 317.327.3475 or call Crime Stoppers of Central Indiana at 317.262.8477 or (TIPS).
Citizens can also download the mobile P3tips app for Apple or Android phones to submit a mobile tip, or go to www.CrimeTips.org to submit a web tip.
You will remain anonymous and may be eligible for a cash reward of up to $1000 if the information leads to a felony arrest.  Only tips submitted directly and anonymously to Crime Stoppers are eligible for these cash rewards.