This is an archived article and the information in the article may be outdated. Please look at the time stamp on the story to see when it was last updated.
FORT WAYNE, Ind.— An Indiana man has been charged with conspiring with his girlfriend to try to poison her infant niece by adding crushed painkillers to a bottle of breast milk.
The Journal Gazette reports that 23-year-old Sirmarshall S. Snyder III, also known as Marshall Snyder, is accused of telling Sarai Rodriguez-Miranda to kill the girl in text and Facebook messages. Records say the 23-year-old Fort Wayne man helped her flee to Michigan, where she was arrested last September.
Snyder is charged with aiding attempted murder. Court records don't list a lawyer for him.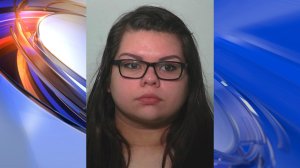 Rodriguez-Miranda was sentenced to 25 years in prison after pleading guilty to attempted murder. Authorities say the Fort Wayne woman tried to poison her niece in January 2017 using a bottle of milk containing enough crushed painkillers to kill an adult.