This is an archived article and the information in the article may be outdated. Please look at the time stamp on the story to see when it was last updated.
INDIANAPOLIS, Ind. (December 1, 2015) – An IMPD officer was arrested and has been charged with assisting a criminal and false reporting.
Officer Jason Thomas, 42, was arrested on November 12 in connection with a case that involves his girlfriend, Amanda Nickless.
According to court documents, Nickless was arrested for battery resulting in bodily injury, criminal mischief, and theft on April 16, and Thomas was the victim in the case.
The court issued a no contact order for Thomas against Nickless, but on April 17, Nickless posted bond and Thomas picked her up in his IMPD car.
Nickless failed to appear for her initial hearing, and on April 27 a warrant was issued for her arrest.
On May 17, Thomas posted a photo with Nickless on his Facebook page with this caption: "Hi friends. This is Amanda. I made her a promise to quit hiding us. She is my soul mate. I have made a commitment to her forever. I've made my mistakes and I'm ready to move forward in life with us. Thanks for the support and genuine kindness that has been shown to us."
And then non June 6, Thomas posted a photo with Nickless on his Facebook page with the caption, "This is my future wife, Amanda. We share the same birthdate 9/29, our tattoo in Roman Numerals. We put ink under our skin for each other (x2). Thank you for your support!"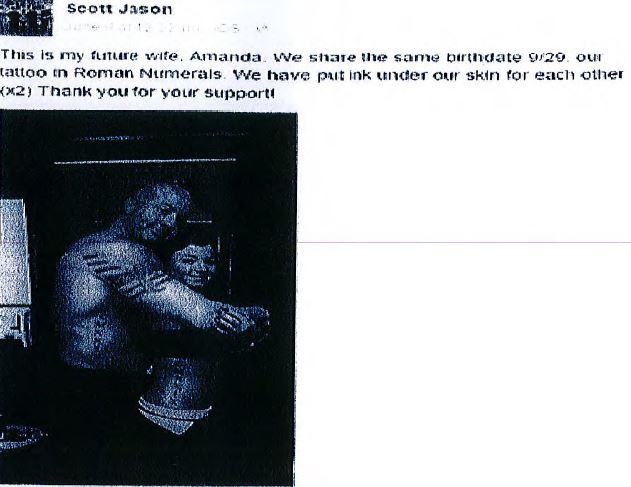 On June 17, officers were tipped off about Nickless' location by an anonymous caller. When they located her, she identified herself as Amanda Hershey. But officers were able to confirm her identity as Amanda Nickless, and she was arrested for three open warrants and false informing. While en route to the Johnson County Jail, Nickless attempted to escape and she was also arrested for resisting law enforcement.
During Nickless' hearing on July 16, Thomas denied seeing her.
On July 17, detectives obtained a search warrant for Thomas' residence and they seized telephones and other electronic equipment.
Then in an official statement, Thomas told police that he didn't know about the no contact order, but according to a call record made in the Marion County Jail, Nickless told Thomas about the no contact order over the phone.
Thomas is set to appear in court on December 15.