This is an archived article and the information in the article may be outdated. Please look at the time stamp on the story to see when it was last updated.
Linda Decker pleaded guilty to murder and was sentenced to 45 years on Monday, March 12, 2018.
FRANKFORT, Ind.– Court documents released Wednesday reveal new information in a Frankfort murder investigation.
Police responded to the victim's home in the 200 block of South 3rd Street around 8:11 a.m. Tuesday. There, they found Betty Wann, 96, deceased in her living room. The back door of the home was busted in.
Police arrested Wann's niece, 67-year-old Linda L. Decker on a preliminary murder charge.
There was blood on the back of the victim's head, along with a large laceration. Bits and pieces of glass and/or ceramic were found around her bed and head.
Decker's daughter, Monica Beard, said the debris was from a lamp. She told police she received a call from her mother, who said someone broke in and "Betty was gone."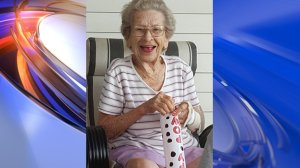 Beard noticed Wann's purse was out and her wallet was open. $300 was missing.
Police interviewed the suspect's husband. The two live in the other half of Wann's duplex. He said Decker woke him up around 8 a.m. because she discovered the glass on the door of Wann's residence was broken. He then called 911.
While speaking to police, the Deckers requested to get some medicine from their part of the duplex. Officers were allowed into the residence, where they found blood at the washing machine. Further investigation revealed what appeared to be bloody clothes in the washer and bloody latex gloves in the trash. A pillow with blood was found next to the laundry machine.
Officers also noticed Decker had scratches on her face and blood on her finger. She also had several large bruises.
Detectives used blood reagents to see a trail of blood from the area where the victim was killed, to the washing machine in Decker's home, and then to the sofa where Decker slept with the bloody pillow.
Police located a safe with a ledger documenting money Wann loaned to people. It showed Decker owed her thousands of dollars. Decker was also a beneficiary in Wann's will.
An autopsy showed Wann died of blunt force injury to the head and face with contributing chest and neck blunt force trauma.