This is an archived article and the information in the article may be outdated. Please look at the time stamp on the story to see when it was last updated.
LAWRENCEBURG, Ind. – An Indiana couple was arrested this week on charges related to the making, selling and delivery of controlled substances.
An investigation began in February after law enforcement found a package containing chemical compounds made to make steroids. The package was set to be delivered from Ohio to the home of Nicholas Gilbertson and Cori Gilbertson.
After investigators served a search warrant on the Gilbertson's home in March, they found a hidden room that held a steroid manufacturing operation and ventilation system, according to Indiana State Police (ISP).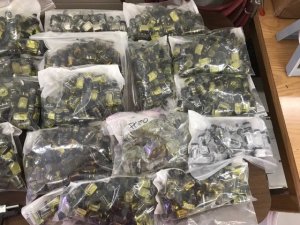 Troopers also found around 25,000 pills that appeared ready to be distributed. The couple had been distributing nearly $80,000 worth of steroids per month since they started the operation, according to ISP.
The couple was arrested on Monday and charged with dealing controlled substances, possession of a legend drug and maintaining a common nuisance.
They're both currently being held in the Dearborn County Jail.