This is an archived article and the information in the article may be outdated. Please look at the time stamp on the story to see when it was last updated.
ZIONSVILLE, Ind. (July 7, 2015) – Federal authorities raided the home of Subway spokesman Jared Fogle Tuesday morning. FBI sources told CBS4 federal and state investigators were serving warrants at Fogle's Zionsville home in connection with a child pornography investigation.
The raid started around 6 a.m. Tuesday. Federal, state and local agencies arrived at Fogle's home with a search warrant around 6:30 a.m. Tuesday. They spent all day removing items like computers and DVDs.  The items were taken out to a large Mobile Forensics Lab that was parked in Fogle's driveway.  Fogle could be seen several times being escorted out of the home, into the van, then back into the home again.
Fogle left his residence shortly after noon. He made no comment as he left the scene in a car with his attorney.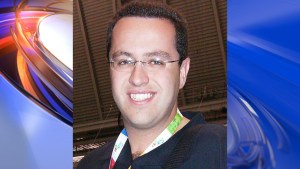 Fogle's lawyer, Ron Elberger, told CBS4Indy Fogle was not aware of the FBI search warrant prior to the raid at the Zionsville house Fogle shares with his wife and two children. Fogle's children were in the house when investigators arrived, but they were quickly moved to another location as investigators began searching the property.
Elberger released the following comment: 
Jared has been cooperating with law enforcement and its investigation of certain unspecified activities and looks forward to its conclusion. 

Jared has not been arrested, detained or charged with anything.

Fogle has not been arrested or charged with any crime as of late Tuesday afternoon.  Some neighbors, and even Subway corporate officials, speculate that the investigation is tied to the April arrest of the former director of the Jared Foundation, Russell Taylor.
A Subway spokesperson released the following statement at 12:24 p.m. Tuesday:
We are shocked about the news and believe it is related to a prior investigation of a former Jared Foundation employee.  We are very concerned and will be monitoring the situation closely.  We don't have any more details at this point.
Hours later, Subway said they were suspending their relationship with the spokesman.
Subway and Jared Fogle have mutually agreed to suspend their relationship due to the current investigation. Jared continues to cooperate with authorities and he expects no actions to be forthcoming.  Both Jared and Subway agree that this was the appropriate step to take.
Subway & Jared Fogle have agreed to suspend their relationship due to the current investigation. Jared is cooperating with authorities.

— Subway® (@SUBWAY) July 7, 2015
Earlier this year, Taylor, the former director of the Jared Foundation started by Fogle, was arrested in a child pornography case. He was accused of possessing and producing child pornography. Investigators said a search of Taylor's home turned up more than 500 videos with images of child pornography. Taylor unsuccessfully tried to kill himself while in jail.
Fogle said the foundation severed all ties with Taylor following the arrest. Investigators wouldn't say if Tuesday's raid was connected to that case.
Fogle gained national fame after attributing massive weight loss to eating Subway sandwiches. He was a freshman at Indiana University at the time. He later became a visible presence in Subway ad campaigns, pitching the restaurant's sandwiches and touting their health benefits.
NOTE: FOX59 initially reported, citing AP, that Subway was ending their relationship with Fogle. However, the report was corrected to reflect the fast food chain is suspending their relationship pending investigation.