This is an archived article and the information in the article may be outdated. Please look at the time stamp on the story to see when it was last updated.
UPDATE (April 27, 2017): A jury found Jackie Parsley II and Ashlee Parsley guilty on several counts including money laundering, theft and lottery forgery. Ashlee Parsley was convicted on an additional count of perjury. Joseph Parsley was acquitted on all charges in the case.
Several other charges were dismissed, including corrupt business influence, forgery and additional theft counts.
Previous story:
INDIANAPOLIS (April 23, 2015) – Three Hoosier Lottery winners tried to bilk the lottery out of $2 million, Marion County Prosecutor Terry Curry said Thursday.
Jackie Parsley II, Joseph Parsley and Ashlee (Campbell) Parsley were all arrested, Curry said during a Thursday morning news conference.
Charges against them include corrupt business influence, theft, forgery and money laundering. In addition, Jackie Parsley II is charged with unauthorized purchase of a lottery ticket by a retailer. Ashlee (Campbell) Parsley is charged with perjury for lying on her claim form for the winnings, saying that she was not prohibited by law from buying a lottery ticket. Indiana law prohibits a retailer or employee of the retailer from purchasing lottery tickets at the premises where the retailer is authorized to sell them.
According to court documents, a pack of Hoosier Lottery scratch-off tickets was activated by Jackie Parsley II at the store. Between Sept. 26 and Oct. 5, seven tickets from the same pack were redeemed for amounts ranging between $20 to $50. On Oct. 3, 2014, Ashlee (Campbell) Parsley redeemed the lottery ticket with the top prize of $2 million. Video surveillance confirmed the timeline of events.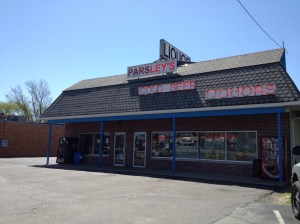 The investigation was triggered when the estate executor for the late owner of Parsley's Liquor saw Ashlee Campbell listed as the claimant of a $2 million lottery ticket. The executor knew Campbell was engaged to Joseph Parsley at the time and said Jackie Parsley II had not told him about the winning ticket being sold and claimed from the packs of tickets at the store. The store was in the process of being sold at the time.
The store's license to sell lottery tickets hadn't been renewed in June 2014 because of the pending sale of the store. Scratch-off ticket dispensers had been removed. The Hoosier Lottery had deactivated the lottery terminal. The store has since been sold.
Investigators have seized three pickup trucks, two SUVs and a box trailer. They've also frozen a bank account worth $550,000 and a home under construction in Putnam County.
The arrests came as a result of a joint investigation by the Hoosier Lottery, Marion County Prosecutor's Grand Jury Division and the U.S. Secret Service, which helped recover surveillance video stored on a corrupted hard drive.