This is an archived article and the information in the article may be outdated. Please look at the time stamp on the story to see when it was last updated.
INDIANAPOLIS, Ind.– The Arts Council of Indianapolis is hosting an art exhibit at Gallery 924 featuring hundreds of small pieces inspired by Indy's own Kurt Vonnegut.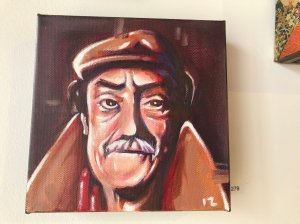 'TINY VI: The Year of Vonnegut' includes art in all forms but all pieces are 6″x 6″ x 6″ or smaller.
Artists were able to submit their artwork to be featured in the gallery.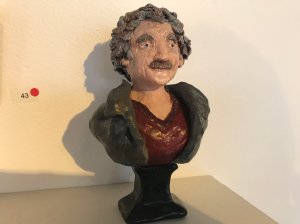 Some artwork is an obvious reference to the theme while others are more abstract and layered. The pieces range from $15 to $500.
This year marks the first ever themed TINY show at Gallery 924 in celebration of the city-wide 'Year of Vonnegut'.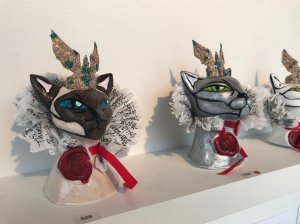 "The Kurt Vonnegut Memorial Library of course is celebrating Kurt Vonnegut," said Shannon Linker, director of Gallery 924. "This is the Year of Vonnegut and it's a city-wide celebration and we just wanted to be a part of that to help celebrate that. So this year we had a Kurt Vonnegut theme, so all of the work in the show is inspired by one of his writings, one of his books or essays or just him as a unique, interesting Hoosier."
This is the gallery's sixth year for a TINY show which allows over 100 artists to feature their art in one place.
Linker says the 'tiny' theme allows for more artists and more pieces, at a smaller price.
There are 343 tiny pieces to see, 150 of them are already sold.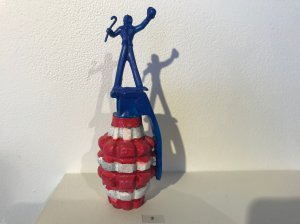 Throughout the year, Mayor Hogsett and the City of Indianapolis, in partnership with Visit Indy and the Kurt Vonnegut Museum and Library have hosted a year of programs to commemorate Vonnegut.
Vonnegut was born on Nov. 11, 1922 in Indianapolis.
He is considered one of the most influential American writers and thinkers of the 20th century and wrote many novels, including Slaughterhouse-Five, Cat's Cradle and Jailbird.
TINY VI: The Year of Vonnegut is open now until Jan. 5, Monday through Friday from 1 to 5 p.m. and is free and open to the public.
Gallery 924 is located at 924 N. Pennsylvania St.
Here's some other events to celebrate Vonnegut:
Panel discussion on Common Decency and Refugees- Dec. 11 at 6 p.m. at the Vonnegut Library.
Barb's Banned Book Club discusses The Handmaid's Tale by Margaret Atwood- Dec. 13 from 6 p.m. – 8 p.m. at Gallery 924.
"I tell you, we are here on Earth to fart around, and don't let anybody tell you different." -Kurt Vonnegut
Gallery 924

Player Piano, 2017 by Doug Calisch.

Kurt Vonnegut, 2017 by Israel Solomon.

This is Nice Cat, 2017 Develop Your Own Wings Cat, 2017 Be Soft Cat, 2017 by Merle Pace.

The Eyes, 2017 by Bruce Armstrong.

Kurt, 2017 by Erin Case.

Sub Paradise, Clean Up, Plane Simple, Imposter, Watch Your Back, Fight Club, It's All Under Control, This is the Way, Formation, Green Army Man, 2017 by Lesley Baker.

Greatest Show on Earth, 2017 by Copper.

Kurt Vonnegut, 2017 by Amelia Rose.