This is an archived article and the information in the article may be outdated. Please look at the time stamp on the story to see when it was last updated.
INDIANAPOLIS, Ind. (Jan. 13, 2016) – Police released mugshots Wednesday of an IMPD officer and two others arrested this week in a drug case.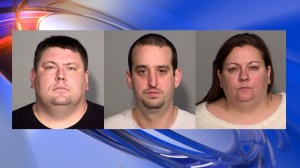 Indianapolis Metropolitan police arrested Christopher Reed, 33, Veronica Purdy, 41, and Nikolas Layton, 35, on preliminary charges of suspicion of dealing in cocaine, conspiracy to deal cocaine, dealing in a controlled substance and possession of cocaine.
The criminal drug investigation dates back to November. The suspects are accused of distributing narcotics, specifically cocaine, over several days.
Layton is a 10-year veteran of IMPD who was assigned to the hit-and-run investigation unit. He's also the son of Marion County Sheriff John Layton. Nikolas Layton submitted his resignation on Tuesday evening after he was suspended by IMPD chief Troy Riggs.
Sheriff Layton issued a statement Tuesday about his son's arrest:
This is obviously a heart breaking moment as a parent, especially as a parent who is also the Sheriff, and even more as the father of a police officer. I have never tolerated this kind of alleged behavior in law enforcement. I have full faith in the criminal justice system, and I feel certain that justice will be done.
Nikolas Layton posted bond and has been released from jail. He is due in court Thursday morning.