This is an archived article and the information in the article may be outdated. Please look at the time stamp on the story to see when it was last updated.
Today is Thursday, Nov. 29, the 333rd day of 2018 with 32 to follow.
Today's Hoosier Highlights in History:
On Nov. 29, 1806, Vincennes University is incorporated in the Northwest Territory. VU remains the oldest public institution of higher learning in Indiana today, and it would be the state's sole publicly funded four-year university until the establishment of Indiana University in 1820. (Source: Wikipedia)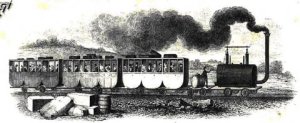 On Nov. 29, 1838, Governor David Wallace and other prominent officials take the first steam train ride in Indiana along 15 miles of track on the Madison and Indianapolis Railroad. At one point the train – being pulled by 'The Elkhorn' locomotive built in England – reached the speed of 8 miles an hour, which was considered phenomenal at that time. (Source: Hoosier History Highlights from the Indiana Department of Administration; Photo: 1838 woodcut illustration of 'The Elkhorn' courtesy of the Lexington History Museum.)
On Nov. 29, 1948, Disney's feature film 'So Dear to My Heart' is released. Set in early 20th century Indiana, 'So Dear to My Heart' told the tale of Jeremiah Kincaid (played by Bobby Driscoll) and his quest to raise his "champion" lamb, Danny. It was based on the Sterling North book 'Midnight and Jeremiah.' (Watch a film clip here.)
On Nov. 29, 1967, Columbus industrialist J. Irwin Miller is featured in an Associated Press story as being a possible successor to Robert McNamara as U.S. secretary of defense. Miller served as the chairman of the Cummins Engine Company for 26 years, during which time he was widely regarded as a patron of modern world architecture. He was also a lay leader in the Christian ecumenical movement and civil rights. (Source: The Republic, Wikipedia; Photo courtesy of the Columbus Visitors Center)
On this date elsewhere:
In 1864, a Colorado militia killed at least 150 peaceful Cheyenne Indians in the Sand Creek Massacre.
In 1890, the first Army-Navy football game was played at West Point, New York; Navy defeated Army, 24-0.
In 1910, British explorer Robert F. Scott's ship Terra Nova set sail from New Zealand, carrying Scott's expedition on its ultimately futile _ as well as fatal _ race to reach the South Pole first.
In 1929, Navy Lt. Cmdr. Richard E. Byrd, pilot Bernt Balchen, radio operator Harold June and photographer Ashley McKinney made the first airplane flight over the South Pole.
In 1947, the U.N. General Assembly passed a resolution calling for the partitioning of Palestine between Arabs and Jews; 33 members, including the United States, voted in favor of the resolution, 13 voted against while 10 abstained. (The plan, rejected by the Arabs, was never implemented.)
In 1961, Enos the chimp was launched from Cape Canaveral aboard the Mercury-Atlas 5 spacecraft, which orbited earth twice before returning.
In 1963, President Johnson named a commission headed by Earl Warren to investigate the assassination of President Kennedy.
In 1972, the coin-operated video arcade game Pong, created by Atari, made its debut at Andy Capp's Tavern in Sunnyvale, California.
In 1981, actress Natalie Wood drowned in a boating accident off Santa Catalina Island, California, at age 43.
In 1986, actor Cary Grant died in Davenport, Iowa, at age 82.
In 1987, a Korean Air 707 jetliner en route from Abu Dhabi to Bangkok was destroyed by a bomb planted by North Korean agents with the loss of all 115 people aboard.
In 1991, 17 people were killed i a 164-vehicle pileup during a dust storm on Interstate 5 near Coalinga, California. Actor Ralph Bellamy died in Santa Monica, California, at age 87.
In 2001, George Harrison, the "quiet Beatle," died in Los Angeles following a battle with cancer; he was 58.
Ten years ago: Indian commandos killed the last remaining gunmen holed up at a luxury Mumbai hotel, ending a 60-hour rampage through India's financial capital by suspected Pakistani-based militants that killed 166 people. Architect Joern Utzon, who designed the iconic Sydney Opera House in Sydney, Australia, died at age 90.
Five years ago: A police helicopter crashed onto a pub in Glasgow, Scotland, killing 10 people. A single-engine plane crashed in remote southwest Alaska, killing four people and injuring six.
One year ago: North Korea launched its most powerful weapon yet, claiming a new type of intercontinental ballistic missile that some observers believed could put the entire U.S. East Coast within range. "Today" host Matt Lauer was fired for what NBC called "inappropriate sexual behavior" with a colleague; a published report accused him of crude and habitual misconduct with women around the office. Garrison Keillor, who'd entertained public radio listeners for 40 years on "A Prairie Home Companion," was fired by Minnesota Public Radio following allegations of inappropriate workplace behavior. President Donald Trump retweeted inflammatory videos from a fringe British political group purporting to show violence committed by Muslims. The House approved a measure requiring annual anti-harassment training for lawmakers and aides. The price of bitcoin surged through $10,000, adding to its ten-fold jump in value during 2017.
Today's Birthdays: Hall of Fame sportscaster Vin Scully is 91. Former French President Jacques Chirac is 86. Blues singer-musician John Mayall is 85. Actress Diane Ladd is 83. Songwriter Mark James is 78. Composer-musician Chuck Mangione is 78 Country singer Jody Miller is 77. Pop singer-musician Felix Cavaliere (The Rascals) is 76. Former Olympic skier Suzy Chaffee is 72. Actor Jeff Fahey is 66. Movie director Joel Coen is 64. Actor-comedian-celebrity judge Howie Mandel is 63. Former Homeland Security Director Janet Napolitano is 61. Chicago Mayor Rahm Emanuel is 59. Actress Cathy Moriarty is 58. Actress Kim Delaney is 57. Actor Tom Sizemore is 57. Actor Andrew McCarthy is 56. Actor Don Cheadle is 54. Actor-producer Neill Barry is 53. Musician Wallis Buchanan is 53. Pop singer Jonathan Knight (New Kids on the Block) is 50. Rock musician Martin Carr (Boo Radleys) is 50. Actress Jennifer Elise Cox is 49. Actor Larry Joe Campbell is 48. Rock musician Frank Delgado (Deftones) is 48. Actress Paola Turbay is 48. Contemporary Christian singer Crowder is 47. Actress Gena Lee Nolin is 47. Actor Brian Baumgartner is 46. Actor Julian Ovenden is 43. Actor Chadwick Boseman is 42. Actress Anna (AH'-nuh) Faris is 42. Gospel singer James Fortune is 41. Actress Lauren German is 40. Rapper The Game is 39. Actress Janina Gavankar is 38. Rock musician Ringo Garza is 37. Actor-comedian John Milhiser is 37. Actor Lucas Black is 36. Actor Diego Boneta is 28. Actress Lovie Simone (TV: "Greenleaf") is 20.
(The Associated Press contributed to this report.)