This is an archived article and the information in the article may be outdated. Please look at the time stamp on the story to see when it was last updated.
INDIANAPOLIS, Ind. — An Indianapolis homeowner says he wants to see swifter action taken by the city after his house flooded three years in a row.
Anthony Dragan told CBS4 Problem Solvers he used to love looking at the view from his backyard, but now it's a daily reminder of flooding that has turned his life upside down.
"It just keeps getting destroyed, year after year," Dragan said.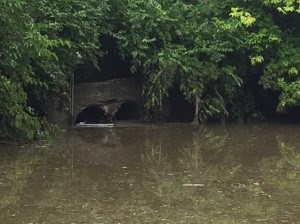 Dragan's property, in the Ivy Hills neighborhood in Castleton, backs up to a retention pond. According to Dragan, a culvert, which allows for drainage of that pond, has been deteriorating for years. It's now visibly collapsing.
Three years ago, water built up in the retention pond and flooded into the bottom level of Dragan's home.
"(It) actually came over the patio and into the house, and that was … I'd say about 28 inches," Dragan said.
He reported the flood and the broken culvert to the city of Indianapolis and Citizens Energy, which both hold some responsibility for the stormwater system in the area. Then, he cleaned up and rebuilt that level of his home.
"Literally the week that I was done … (a) flood hits again," Dragan said.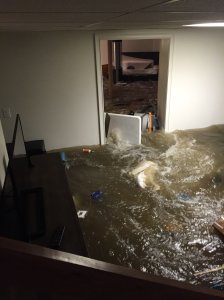 That time, in summer 2016, four feet of water rushed inside. Dragan showed CBS4 Problem Solvers photos which show the water building up outside his patio door, then forcing its way inside and destroying all of his downstairs rooms.
"You're just standing in the stairwell, just watching it," Dragan said.
Afterwards, he faced another major clean-up. He said he reported the broken culvert again, and decided not to rebuild. At the time, he said he was told the city was looking into drainage issues in the neighborhood.
This summer, Dragan's home flooded for the third time. When CBS4 Problem Solvers visited him to see the issue, he was still dumping some damaged items into a dumpster he had rented.
"You just feel helpless, you know. You don't know what to do, you know this is going to happen again," Dragan said.
Dragan said he went to public meetings last fall about the city's plan to upgrade the stormwater system in Ivy Hills, but he doesn't understand why the culvert wasn't fixed earlier, since it had been reported for years.
"Nobody seems to be listening," Dragan said.
CBS4 Problem Solvers took Dragan's questions to the city, where spokespeople for the Department of Public Works said they are listening.
"From our side of things, we're moving as quickly as possible. He has done a great job in getting in touch with us," project manager Ben Easley said.
Easley said a project of this magnitude takes time, and the plan is to start work on the culvert early next summer, with the rest of the project to be completed between fall 2018 and summer 2019. The total project will cost an estimated $2.5 million.
"We want to make sure we're not just throwing a band-aid on the problem, but we're taking in the entire scope of the neighborhood. We want to make sure our projects last for years and decades to come," Easley said.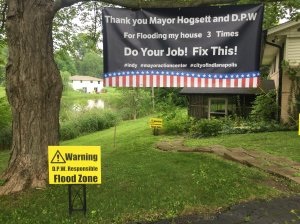 The improvements can't come soon enough for Dragan, who resorted to installing a large banner outside his home that says, "Thank you Mayor Hogsett and DPW for flooding my house (three) times. Do your job! Fix this!"
"Somebody is responsible for fixing that storm drain and they need to do it, and they need to do it soon," Dragan said.
Easley suggested homeowners, like Dragan, who experience flooding in their home contact the Marion County Soil and Water Conservation District to ask for a free assessment.
Dragan told CBS4 Problem Solvers that week after our visit, he saw crews out looking at the damaged culvert.