This is an archived article and the information in the article may be outdated. Please look at the time stamp on the story to see when it was last updated.
[protected-iframe id="0f4d55ee038256a479b8a60d4007d34e-41641915-42241042″ info="https://play.syndicaster.tv/v1/widgets/c0ef4930-9989-0135-27b8-0242ac110004/player.html?vid=7381305&tags=&vertical=News&volume=100&autostart=false&autonext=false&share_link=http://www.clipsyndicate.com/video/play/MEDIAID" width="770px" height="433px" frameborder="0″ style="overflow: hidden; width: 770px; height: 433px;" scrolling="no" allowfullscreen=""]
TERRE HAUTE, Ind. – The family of fallen Terre Haute police officer Rob Pitts received a letter of support from President Donald Trump.
The president's letter highlights Pitts' bravery and sacrifice, reports WTHI. The officer was fatally shot in the line of duty in May.
The letter came as a surprise to Pitts' family. His older brother, Greg Pitts, said he lost his best friend. He knows exactly what he'd say if he could see his brother one last time.
"I was proud of him," Pitts said. "And I miss him."
The president's letter was addressed to the Terre Haute Police Department.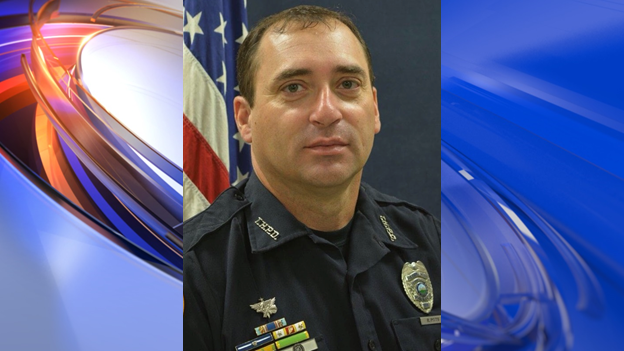 "It came in a manila envelope," said Terre Haute police officer Ryan Adamson. "The return address was the White House."
Both President Trump and First Lady Melania Trump signed the letter expressing their condolences for the loss of Pitts.
"It meant a lot," Greg Pitts told WTHI. "It was kind of a sense of pride that he would reach out and to take the time to do this for us."
Adamson said the department won't soon forget the president's gesture.
"For him to take the time and even sign the letter, it means something," Adamson said. "It means something to the Terre Haute Police Department and it means something to the men and women in law enforcement. More importantly, it means something to the Pitts family."
Here's the letter in its entirety:
Dear Pitts Family,

It is with heavy hearts that we learned of the loss of Rob. Our Nation owes a debt of gratitude to him for his brave and honorable service with the Terre Haute Police Department.

We pray that you are all strengthened by the memory of Rob's indelible spirit and find comfort in knowing that Dakota, Brooke, and Austin will carry on his legacy. He will forever be remembered for his commitment to protecting and serving the people of Indiana.

We join your family, friends, and community in honoring Rob for making the ultimate sacrifice while in the line of duty.
Thank you @realDonaldTrump for taking the time to send a letter to the family of our fallen officer. You are appreciated! pic.twitter.com/qISBDlOApT

— Ryan Adamson (@THPDPIO) June 30, 2018