This is an archived article and the information in the article may be outdated. Please look at the time stamp on the story to see when it was last updated.
FRANKFORT, Ind.– It's never fun going to the dentist– it's just another thing you have to do when you could be doing something exciting.
A Frankfort dentist is trying to change that attitude, with the help from billboards advertising her office.
The internet is having a hay day with Dr. Jill Snyder's take on Marvel's Guardians of the Galaxy.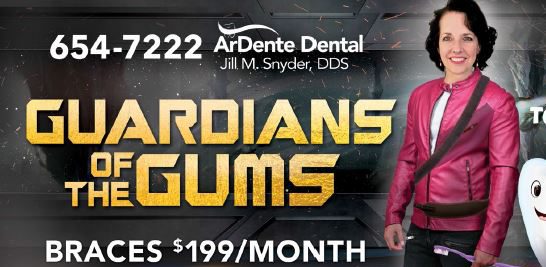 Someone snapped a picture of the billboard that reads, "Guardians of the Gums," complete with a sidekick tooth that says, "I am tooth."
Dr. Snyder and her staff at ArDente Dental come up with a new billboard idea each month to display in Frankfort. It's something they've been doing for over six years.
"I've had people stop me at businesses and say, 'oh I saw that,'" said Snyder. "We have our patients come in and they comment on our billboards a lot. We try to get them to give us new ideas."
It's not just the billboards that are exciting. Snyder said she hopes to bring that "punny" attitude to the office.
The original picture on Twitter has more than 70,000 retweets and 210,000 likes.
I AM TOOTH pic.twitter.com/ohkYIrRGan

— Hector 🎄 Parayuelos (@hecpara) August 22, 2018
"Somebody had been driving through town, took a photo of it and posted it," said Snyder. "It just kind of exploded from there."
Dr. Snyder plans to display a Halloween-themed billboard next month based on the movie, It.
"We try to make it really fun, because who wants to work in a place that's not fun?"