This is an archived article and the information in the article may be outdated. Please look at the time stamp on the story to see when it was last updated.
GREENWOOD, Ind. – Johnson County authorities are warning residents about a lethal opioid mix called "gray death" that has been found in Greenwood.
Gray death is a new "drug cocktail" that looks like concrete, which is where it gets its name. It contains a deadly mix of heroin, fentanyl, the elephant tranquilizer carfentanil, and a synthetic opioid called U-47700.
Greenwood police were dispatched to the 1000 block of Coventry Court on March 18 around 8 p.m. A woman was inside an apartment at Polo Run Apartments laying on the floor, unconscious.
Medics arrived at the same time the officer did and narcan was used on the woman, identified as Hanna Richard, 19.
Brandon DeBlaso, 20, helped officers search the apartment for what Richard might have taken, but nothing was initially found. While medics assisted Richard, officers noticed a young juvenile sitting in a high chair. DeBlaso said she is his and Richard's daughter.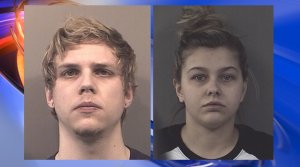 When Richard regained consciousness, she told medics she and DeBlaso had taken heroin together just prior to police being called.
Eventually, DeBlaso said they used a straw to ingest a substance, but he wasn't specific. A black straw with a white powdery substance was found in the kitchen garbage can.
Greenwood police tell CBS4 the pair received gray death instead of the heroin they intended to purchase.
Richard and DeBlaso were charged with possession of paraphernalia, but the charges will be dismissed if the couple goes through Greenwood's Recovery Court program.
The child was placed into the protection of her grandmother for the time being.
This is the first overdose case involving gray death that police have reported in the state. Overdoses from the drug have also been reported in Ohio, Georgia, and Alabama.
Greenwood Assistant Police Chief Matthew Fillenwarth says reactions to the drug are varied, but for some people, just one microgram can be deadly.
Most users inject, swallow, smoke, or snort the drug. It can also be absorbed through the skin which is why law enforcement wears protective gear when they come in contact with the mix.
Right now, law enforcement continues to focus on patrolling local highways and roads to intercept the drug as it enters the state. Officials hope this warning about the dangerous drug mixture saves a life.