This is an archived article and the information in the article may be outdated. Please look at the time stamp on the story to see when it was last updated.
Really nice Friday to wrap up the work week!  Enjoy a near-repeat of yesterday with highs in the upper 40s.  Clouds will be approaching ahead of our next weather maker so the evening commute is when you'll notice the clouds on the increase.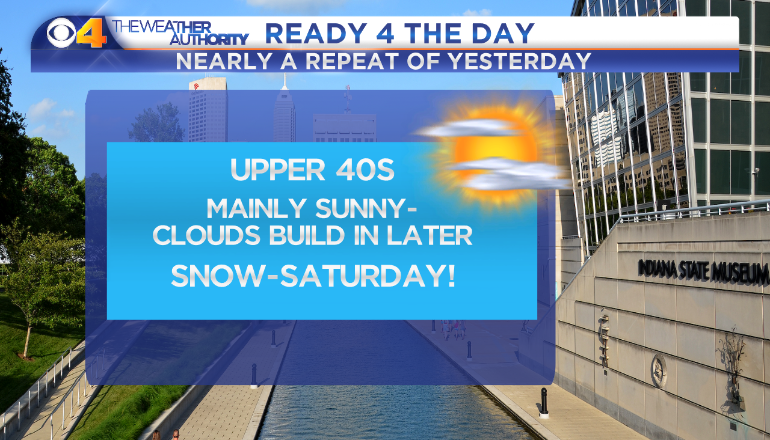 Friday evening plans will be good to go.  Rain is possible as early as 8 p.m. to 10 p.m. for Bloomington and SW, but most won't see the first raindrops until after midnight.  We'll see rain and wind picking up for a few hours and then early Saturday morning that'll begin to turn to sleet and then snow.  The city will be all snow by about 8 a.m. Saturday.
Accumulations will struggle at first with most snow melting on contact, but then we'll see the snow start to pile up on the grass.  The snow will fall at a fairly moderate rate throughout the day and finally exit around 8 p.m.  It'll be a decent amount of snow over about 12 hours.
Delphi to Westfield toward Indianapolis and into Columbus & Aurora could see 3-5″ of snow on Saturday. Less toward Martinsville and then toward Lake Monroe should be a mostly rain event.