This is an archived article and the information in the article may be outdated. Please look at the time stamp on the story to see when it was last updated.
Clouds will remain stubborn through the afternoon, which will hold temperatures to more seasonal levels today. Highs will be in the low to mid 40s for your Friday afternoon.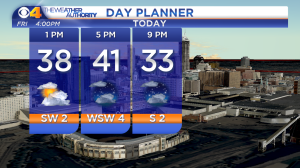 Our weather will turn mild for December standards heading into this weekend. Highs will be in the 50s on Saturday and Sunday after some morning fog develops again on Saturday AM.
We have small rain chances on Sunday and Monday. This is a 20% chance and we'll see a few of those isolated showers south of I-70.
Looking ahead to next week, we'll have a higher chance for rain during the second half of the week.