This is an archived article and the information in the article may be outdated. Please look at the time stamp on the story to see when it was last updated.
Indianapolis is quickly becoming one of the hottest food cities in America.  A destination for true foodies who are interested in everything from fine dining to food trucks.  This column will put the spotlight on one of these local hot spots to help get the word out and share in the love of all things food.
Review by Dustin Heller; follow him on Instagram: @eatindywatchindie
For some reason, there seems to be a negative connotation when it comes to hotel restaurants; I believe the biggest misconception is that they substitute quality for convenience.  I'm here to tell you that downtown Indy is doing their best to change this thinking.  Conner's Kitchen + Bar is the new "hotel" restaurant in the downtown Marriott, but it doesn't feel like one at all…actually, it feels more like a Mass Ave hot spot with the elevated comfort food they're serving up.  Located at 350 W Maryland St, Conner's fashions itself as "a higher class of casual" and I think that statement suits them to a T!
Conner's occupies the space that was formerly home to Champions, but you wouldn't know it at first glance.  The hotel has undergone a $40 million renovation and Conner's was a big part of that. Let me just say that it is gorgeous!  The interior space is sleek and stylish with a vibrant, energetic vibe.  The bar area is perfect for an after work drink or a place to watch the game.  The windows even open up to the outdoor patio, making it feel more spacious and part of the busy downtown sidewalks.  Speaking of the patio, this is going to be one of the hottest spots downtown this summer.  Don't miss out!
The place doesn't look or feel like a stereotypical hotel restaurant, and the food sure doesn't taste like it either.  Conner's is serving up breakfast, lunch, and dinner along with a weekend brunch that is sure to excite the local foodie crowd.  The menu consists of Southern favorites with a Midwestern touch.  The secret to a number of their dishes is the wood smoker in the kitchen that is truly a thing of beauty.  I asked if they'd let me borrow it for a few days, but that didn't go over too well.  There is a lot to love about this Conner's menu, and I'm especially excited about my four "can't miss" items listed below.
Loaded BBQ Pulled Pork Nachos: load·ed /lōdəd/ – containing in abundance or to excess.  There are many definitions of this word, but none more fitting than this one when referring to these nachos.  They're not only loaded with mounds of toppings, but also loaded with tons of flavor.  The BBQ sauce on the pulled pork is somewhat sweet, which pairs perfectly with the heat from the peppers and the coolness from the sour cream and guacamole.  Add to that some tasty pico de gallo and black beans, and you've got yourself a mountain of joy.  Wait a minute…I almost forgot the most important part: the cheese!  Conner's uses a three-cheese blend of Oaxaca, Chihuahua, and American that takes these nachos from great to otherworldly.
Quinoa and Vegetable Chili: Being completely transparent, I normally wouldn't even try a vegetarian chili, let alone recommend one, but this isn't your run-of-the-mill veggie chili.  I think the magic lies with the quinoa–it makes the chili heartier and adds some really nice texture.  Don't go thinking that this is a wimpy chili either! There is some heat in that bowl that will slap you in the face if you're not expecting it.  This chili can definitely stand on its own, but to really take it to the next level, they top it with lime crema, avocado, and Oaxaca cheese.  You carnivores out there need to take note and not sleep on this dish!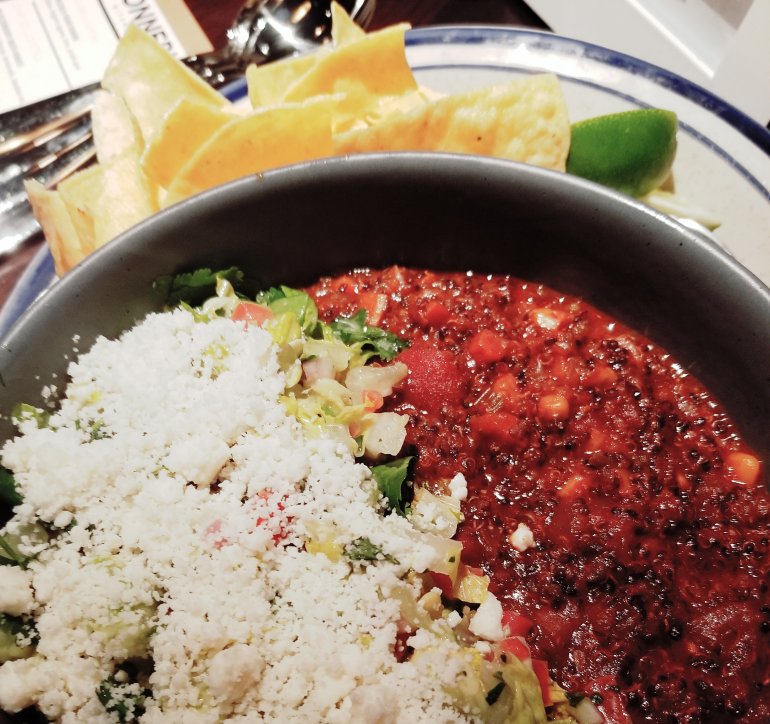 Southern Fried Chicken: Here we have a classic Southern dish that Conner's executes flawlessly.  The chicken is plump and juicy and coated with a crunchy breading that is loaded with flavor.  If that wasn't enough, they serve it with a hot honey drizzle that brings the sweet and the heat.  Another great thing about this dish is the portion: they serve four big pieces of chicken per order, which I obviously love (and no, I didn't have any leftovers)!  Speaking of classics, the chicken is served with mashed potatoes and gravy and cole slaw that would make any self-respecting Southerner proud.
Loaded Hot Fudge Sundae: Warning!  This is not a dessert for the faint of heart.  This is the second time on this list that we've seen the word loaded–and for good reason.  This time, loaded means that you can load whatever you want on top of your sundae, because Conner's serves the ice cream with 12 (that's right, 12!) topping choices and that's not even counting the whipped cream and cherry on top!  Choose between vanilla, chocolate or strawberry ice cream and then let the fun begin.  In case you were wondering, there is no shame in using all 12 toppings.  It would actually be somewhat disrespectful not to use them (at least that's what I'm telling myself)!